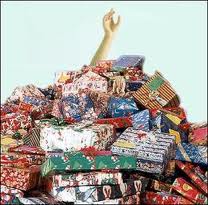 The Plemon family Christmas, which has traditionally been a meal and a gift exchange, has gradually grown as our children have married and started having children of their own.  This year, as we took turns opening gifts … and gifts … and more gifts, the gift giving side of our celebration seemed, well, indulgent.  Some spent money they couldn't afford while most received gifts they didn't need.  Even my grandchildren (ages 8 and 10) were disturbed about so much stuff, voicing wishes that Christmas would be more fun if we focused on simply spending time together instead of piling up gifts.
Janice and I agree, so we have been contemplating some changes for next year.  Here are some thoughts:
No Gift Exchange
I realize this sounds extreme for all who love to give Christmas gifts – and we wouldn't discourage gifts for the kids — but we would like to try a "no gifts for adults" Christmas just to see if we can put some sanity back into the holiday.  Of course, we still want to celebrate Christmas … just in a different way.  We are hoping that the following ideas will not only enhance the Christmas season, but will make the entire year more meaningful.
More Emphasis on Birthdays
For those who love to give gifts, we will encourage them to do so on birthdays instead of Christmas.   Yes, remembering birthdays is a challenge for many of us, but that is the point.  Who doesn't love being remembered on their birthday?  Of course we already celebrate family birthdays, but if we emphasized those times, we could have lots of great parties throughout the year.  Sounds like fun.
Give Surprise Gifts Throughout the Year
This idea will also fulfill the giving spirit many family members have.  We will encourage our family to be proactively thinking of ways to bless each other throughout the year.  Whenever those opportunities arise, we should simply buy the gift and give it.  It may be April, August or December, but the gift should always be punctuated with an enthusiastic "Merry Christmas!"   Sort of like having Christmas all year long.
Create Memories Instead of Buying Stuff
Science has proven that life experiences make people happier than stuff.  The experiences actually appreciate in value because of the happy memories that can be shared and revisited many times over.  Stuff, on the other hand, gives a short time euphoria which is soon forgotten forever.  We are considering creating those memories by using our "Christmas gift money" for a family vacation.
Secret Santa
Not having a Christmas gift exchange leaves a void in our family celebration; a void we hope to fill by challenging each family member to give an unexpected gift or perform a random act of kindness.  On Christmas Day, instead of taking turns opening gifts, we would take turns sharing our experiences.  This sharing time would do more than fill  a void – it would inspire us to be more giving throughout the coming year.
Making it happen
As Janice and I have been sharing some of these thoughts with our children, their responses have all been positive.  We plan to have a family powwow soon to solicit their input. Hopefully, as we reach a consensus, we will not only anticipate next Christmas with a new excitement, but will be able to have more fun with our giving throughout the entire year.
And we might just create some memories with a Plemon Family Vacation.
Readers: Have you scaled back on your family gift exchange?  In what ways?  How has it gone?  What will you do differently next Christmas?