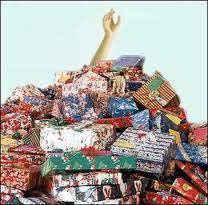 After Christmas 2010, my family decided to try something different in 2011 … we agreed to fore-go our gift exchange in lieu of a family vacation.  Our logic was that creating memories was a better use of our money than buying gifts.  Why?  Because memories will pay great dividends as we watch those vacation videos, share stories of our time together and anticipate doing it again.  Gifts, on the other hand, lose their glitter on December 26 and are often forgotten within a few months.
Now that Christmas, 2011 is over, we are reflecting on how the experiment went, whether we want to try it again in 2012, and what changes we will make.
First:  the vacation
Our family vacation, which we tabbed "Christmas in June", went extremely well.  Five families converged on a fabulous ocean front beach house last June and had a week of swimming, walking the beach, deep sea fishing and relaxed conversations.  That week helped me know my kids and grand-kids better than I ever had.
But…how did Christmas go without a gift exchange?
Was there a gift giving void that would leave us feeling somehow less Christmassy?  Not really…for two reasons:
1.   We gave gifts to the little ones.  Doing so maintained the childlike wonder which makes the season what it is.  However, because we have lots of adults, each kid still had a mound of gifts.  Next year, we might pare back and let the kids draw names.
2.  Our ten dollar challenge: we were all challenged to give at least $10 to some needy  person or cause, then share our experiences on Christmas day.  In an effort to help third world families help themselves, one of our group sent a new sewing machine while another sent funds for farm animals.  Some bought groceries or gifts for needy families in our own community.  Overall, our family experienced a Christmas blessing unlike any gift exchange in memory.  This challenge, in my mind, was the highlight of our experiment.
So what was our verdict about this Christmas experiment?  We have already reserved our vacation home for June, 2012. 
Readers:  Does your family feel overwhelmed by too many gifts at Christmas time?  Have you tried your own family experiment?  How did it go?