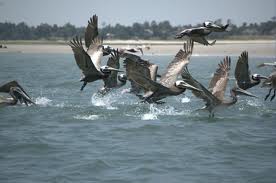 On December 29, 2010, while our over the top gift exchange was still grating on me, I wrote "Rethinking Our Family Christmas Gift Exchange" — a post with several ideas of how to better celebrate Christ's birthday without the accumulation of stuff.  One thought was to create memories instead of exchanging a bunch of crappola that no one really needs.  Our family decided to create those memories by forgoing our annual gift exchange and spending the money on an annual family vacation — which I reported on in my Creating Memories Update post.
So here is the latest update:  as you are reading this post, my family is on Topsail Island, North Carolina creating those memories.  We are lazing around our five bedroom beach house (go ahead and click to check out our digs),  playing on the beach,  fishing off a pier, swimming (or boogie boarding)  in the ocean, eating great food, playing board games and laughing a lot.   Of particular significance are the memories my 11 year old grandson Simon (of "Financial Wisdom From a 10 Year Old" fame) and my 9 year old granddaughter Dyllan are creating … this is their first time to the ocean.  Altogether we have 9 adults, two kids and one baby in our beach house.  We will not be bored!
Unexpected side effects of creating memories
Allow me to report two, unrelated and unexpected, effects of our family's new philosophy:
1. Shortly after that post in late December, as my bank teller leaned forward and confided,  "You need to realize that you have created a huge family fight for us.  My sister read your article about rethinking Christmas and called for a family meeting (where she passed out copies of the article) and told us that we need to rethink our Christmas next year.  The thing is, some agreed and some didn't, so now we are in a turmoil."  I didn't have much response, but expressed appreciation that they were reading my post.  Come to think of if, now that all of these months have passed, I need to check with her to see what, if anything, they agreed to.
2. Jan's sister, when recently asked about Christmas 2011, briskly stated, "Remember?  We are not going to have that huge gift exchange this year."  Evidently, the change my family is making has rubbed off on my sister in law's family.
So here is the vacation plan:  Just as I am on vacation, my blog is too.  I am not going to write or post anything new on Personal Finance by the Book for an entire week.  Who knows…you might enjoy the break too!