Many people underestimate how difficult it can be to save, as there are many unexpected and costly circumstances that life throws at us.
It is straightforward to be led astray if you are not used to your saving routine.
Using a spending tracker is one way to ensure that you are saving the amount of money you want while not losing track of your spending habits. You will not need to keep a close eye on your money by automating your savings, as everything will be done for you automatically.
Although you may need to spend a little bit of time, in the beginning, setting everything up, it will be worth it in the end when you can save both time and money. So, how do you automate your savings and investments?
Set up your retirement fund
Saving for retirement is one of those things that many people are aware of but do not do because it seems so far in the future.
The trick here is to set aside a small sum of money every month into a pension fund that will slowly build up over time and leave you with enough money when you eventually retire. 
You can set up an employer-sponsored retirement fund, which means that your employer must match your contributions by 50% or even 100% on occasion. This is what is called a 401-K. 
There is always a cap on the total amount that your employer will contribute.
For example, the 401-K contribution cap is $19,500 if under 50 and $26,000 if over 50. 
Other retirement investments
If you have maxed out your 401-K and would still like to set aside more money for retirement, then there are other ways to automate this to make your life easier.
One such way is to set up an IRA (Individual Retirement Account). You can then set up an automatic transfer every month from your paycheck into this account.
There is also a contribution limit here to be aware of. For 2021, the IRA contribution limit was $6000 if you are under 50 and $7000 if you are over 50.
So, if you want to maximize your IRA and if you are under 50 years of age, you should set up a direct deposit of $500 every month to this account.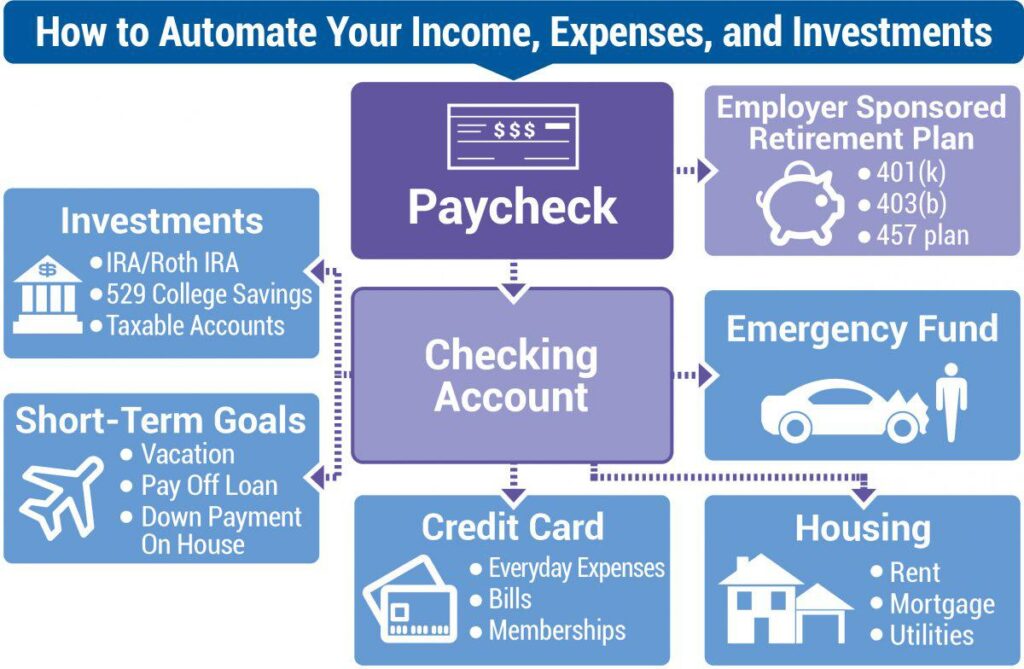 Set up an investment plan
Once you have money automated into your retirement fund(s), you will want to make the most of any other savings.
To do this, you can set up and automate an investment plan. You can do this with many different brokerage firms and accounts.
For example, a low-cost index fund will help reduce the amount of cash in your account and make the most of your money. This type of account will follow stock market indexes, such as the S&P 500. 
By automating your account, you will need to transfer money or set up a direct debit, and it will be automatically invested for you.
You can also get in touch with a financial advisor, and they will tell you the best way to invest your money to suit your lifestyle and budget.
Use round-up applications
If you are looking to start your savings journey and do not quite understand the best long-term solution for you, consider starting small with round-up apps.
https://www.fool.com/investing/how-to-invest/automated-investing/
These are applications attached to your credit or debit card that rounds up the transaction to save the change. So, for example, if you buy a coffee for $2.60, the app will automatically take the $0.40 and put it into a savings pot. 
By slowly collecting all your "spare change," the app builds up a nice little sum of money over time.
Alternatively, there are incredibly clever apps, such as Digit, which use AI to track your spending habits and inform you of where you are saving money. There is no need for you to do anything; it saves you money.
Cut back and up your savings
There are some other methods that you can do yourself that are quick and easy and can make a big difference to your overall savings habit.
For example, look through your bills at the end of the month and see if there are any areas that you could cut back on.
If you are paying $100 per month for a gym membership that you hardly use, consider canceling it or downgrading your membership.
Instead, you can set up a monthly direct debit of $100 into a savings account.
Just like the apps, you could start to collect your spare change. Many people find it easier to work with cash when trying to save money as they can physically see the money depleting.
So, if this is your method of choice, you should try setting up a savings jar where you place your spare change at the end of every day.
Slowly, over time, this will amount to a decent sum of money. Then, remember to deposit this into your bank account every so often. 
Set up a savings account
If you can implement changes in your life that allow you to save money, you will need an excellent place to keep them. You should contact a bank manager or financial advisor and talk to them about establishing a high-yield savings account.
This will help you make the most out of your savings, rather than allowing them to depreciate year on year in a regular bank account.
Conclusion
There are many ways that you can automate your savings. Exactly which methods work for you will depend on your lifestyle, your total income and expenses, and your level of expertise in the financial world.  Setting up direct deposits to savings accounts and IRAs will help make your