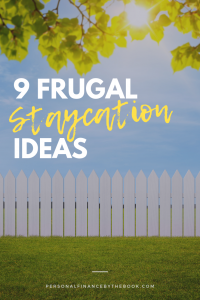 Summer is winding down and so are vacations.  With school in full swing and the holidays around the corner, a vacation may not be in your budget…but we can't help but think about one every now and then.
It's good to have a break without forking over a lot of your hard earned money, which is why staycations are awesome.  If you haven't heard of the term staycation it's simply taking a vacation from work without spending money traveling to a costly vacation spot.  With airline tickets costing over $400 on average and a decent hotel around $80 or more, you can't help but spend $1,200 – $2,000 for a one week vacation for two people.  While these staycation ideas might not be as lavish as a beachside resort, they can be just as memorable and fun if you plan it right.
1. Favorite Meal Night
This works especially well if you have kids.  Let them choose their favorite meal each night.  Your kids will appreciate the ability to be the decision maker for the night, and besides, who wants to eat casserole on vacation?  Just kidding Mom…
2. Ice Cream Sundae Night
You still haven't left the house and your kids are still enjoying their staycation.  Making an ice cream buffet to create sundaes will stand out as a something they remember.  Plus, you'll have more fun than trying to place an ice cream order at Dairy Queen with a noisy carload of kids. 🙂
3. Family Game Night
I know we have five or six games that we love to play – each of which can fill up an entire night.  Make it a point to turn off the TV and play a game as a family.  You might even like it enough to make it a weekly event!
4.  Have a Movie Marathon
Go to the library first to scope out any movies that you may have missed, then Redbox, then the movie store.  You should find all that you need to host a movie marathon.  You might just watch a movie in the afternoon – go crazy, it's your staycation.
5. Take a Hike
Fall is a beautiful time to go hiking outdoors.  We're fortunate to be five minutes from a state park and could spend hours hiking and letting our dog swim in the lake.  Just be sure call ahead to see if they offer discounts on boats and other activities.  You might be able to rent a boat or canoe for half price before a certain time (a popular incentive at many state parks).
6. Read a Book
Never have time to read the stack of books in the corner?  I know how that feels!  Spend the afternoon reading by the pool /porch or next to the fireplace.
7. Park Hop
Visit a few parks and bring your book.  The kids can play and you can relax.  With a little planning, you might put your young kids (or grandkids) on a little scavenger hunt and have them find things to bring home.  Help them put it all together on a piece of cardboard or construction paper.
8. Create a Mini Camp
This is for the creative in the room, though I'm sure anyone can put together a fun afternoon of different events for your kids.  If it's summertime, put up a slip'n'slide or sprinklers, have a water balloon war, and top it off with a cookout.  For the fall and winter months, roast marshmallows or have a snowball fight.
9. Cookie Night
I can still remember all the kids getting together to make cookies.  In the fall, we'd make cookies for Christmas and hang them after we put up the tree in late November.  In the spring, we'd color eggs for easter and make cookies as well.  I don't know why working on something like cookies can make an impression like it did, but all I know is that it's a great way to spend time with your kids while taking a break from everything else.
Have you ever had a staycation?  What would you add to the list?
Tim is a personal finance writer at Faith and Finance a Christian financial help blog that provides financial insights for individuals, businesses, and churches. Outside of finance, Tim enjoys spending time with his wife, playing the saxophone, reading economics books, and a good game of RISK or Catan. Find him on Twitter and Facebook and subscribe to the Faith and Finance RSS feed.