The most common, costly grocery store items are meat, dairy, and fresh produce.
However, many grocery store item prices have increased drastically over the last 18 months due to the pandemic. Goods such as bottled water, cookies, and rice have increased the most. 
If you have noticed that your grocery bill has been quietly getting larger and larger over the past year and a half, you are not the only one.
This article highlights what food items cost you the most and how you can lower that weekly grocery store bill. 
What grocery store items cost the most?
Historically, the food staples that cost you the most on any given shopping trip are as follows:
Fresh produce
Meat
Dairy
The high price is because of their expiration and the general demand for these items. They also account for three food groups and usually make up a well-balanced meal.
However, as of late, the food items that are costing you the most now are items such as:
Rice
Cookies
Bottled water
Since the beginning of the pandemic, these grocery store items have seen some of the highest inflation rates compared to other products. 
Why do these grocery store items cost so much?
Since the pandemic began about 18 months ago, there have been substantial supply chain issues. This has caused delayed production and shipping worldwide.
Although it has been a year and a half, many supply chain processes have not returned to normal. 
https://www.eatthis.com/news-grocery-prices-more-expensive-june-2021/
These items have been high in demand, and the prices have gone up significantly because of these disruptions and delays.
What are some alternatives?
There are three simple things to lower your grocery bill:
Luckily, the items above have tons of alternative options that cost less and are better for the environment. 
Instead of buying bottled water, buy a water filter. Better yet, get a filtered attachment to your kitchen sink! You can purchase couscous instead of rice, and as for cookies, you can make dozens more in batches with the ingredients in your pantry. 
What other items cost more at the grocery store?
Meat items such as bacon and steak and dairy products such as milk and yogurt have also seen their prices rise in the last while. You can also expect to find products such as nuts and fresh berries to cost a pretty penny every time.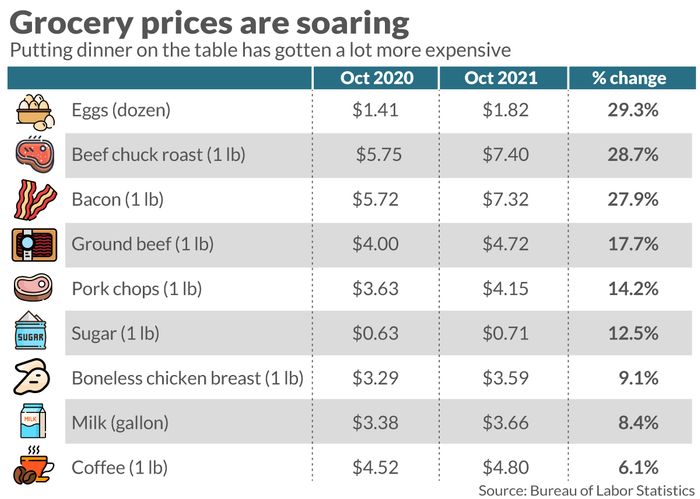 The cost of food items also depends on the season. For example, near Christmas and Thanksgiving, you can expect walnut prices to skyrocket as well as ham, turkey, and potatoes.
How to save money while grocery shopping?
To save money while grocery shopping, here are a few things you can do:
Buy no-name brands, utilize both online and in-store coupons or price shop around.
The first one is relatively easy to do as most stores will offer a cheaper, no-name brand alternative to your favorite foods. 
The first and second require a little bit more effort. For couponing, you can do a simple google search for coupons targeting your staple food items or flip through the store flyers for any sales, promotions, or coupons to save money on your regular grocery store items.
Price shopping around town involves you looking around at other grocery stores to compare their pricing for your usual food items.
Although this requires more time and effort, this can save you a lot more money down the road.