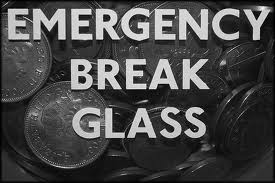 If you follow Dave Ramsey, you are aware that your very first priority is to establish a $1,000 emergency fund for those unexpected life events.   The point of this "Baby Step One" emergency fund is to provide you a buffer or fall back while you're paying down debt with "gazelle intensity".
But once you have your emergency fund, the question that begs to be answered is: What qualifies as an emergency?
Before you invade your emergency fund, be certain that you can clearly answer this question.  These five tips will help:
1. Is there any slack in the budget?
Is it reasonable to adjust a few of your budgeted categories — or even put a few on freeze — as you save up to cover the unexpected expense?  If so, you've turned your emergency into a budgeted category – at least for the time being.
2. Can it wait?
I know some things which seem like emergencies are actually only  inconvenient setbacks.  Are you needing a new TV, computer, or phone?  Will your old phone hold you off for a while?  I just spoke with a lady whose response to a computer crash was to charge $1,800 to get a new mac.  That decision added up to 1/3 of the consumer debt she held and it just added to the mess of debt.
3. How serious is it?
This is where it can be a little tough to decide if it really is an emergency.  Ultimately you'll need to use your discretion and you might benefit from asking someone's opinion.
In my opinion…
Broken bone…emergency
Sore back (paying for a massage)…nope
Front door broke….yes, emergency
Couch cushion ripped…I don't think so
4. Do you have a plan to replenish it?
If you absolutely have to use the emergency fund, don't get upset.  (It's there for emergencies, right?) Your goal should be to replenish it as quickly as possible.  How you do it will involve some creativity – side jobs, budget category freezes, and garage sales are just a few ideas of how to rebuild that fund.
5. How can you avoid it in the future?
This final question is just as important as the first.  If you've built up your emergency fund and don't want to experience the pain of dipping into it again, try to plan for the unexpected.  If you're able to set aside funds into a separate emergency fund for auto, home, or health expenses, go for it!
Everyone's financial situation is different and emergencies won't be the same for everyone.  If there's one thing that is the same, it's that taking the time to ask these questions will help you to think through all of your options before you make the decision to touch your emergency fund.
Have you ever had to dip into your emergency fund?  What was it for?
Tim is a personal finance writer at Faith and Finance a Christian financial help blog that provides financial insights for individuals, businesses, and churches. Outside of finance, Tim enjoys spending time with his wife, playing the saxophone, reading economics books, and a good game of RISK or Catan. Find him on Twitter and Facebook and subscribe to the Faith and Finance RSS feed.