Several programs provide student loan forgiveness. Students would need to qualify for each program's specific requirements before receiving any benefits.
Although numerous agencies and organizations offer student loan forgiveness, the strict requirement makes it hard to qualify.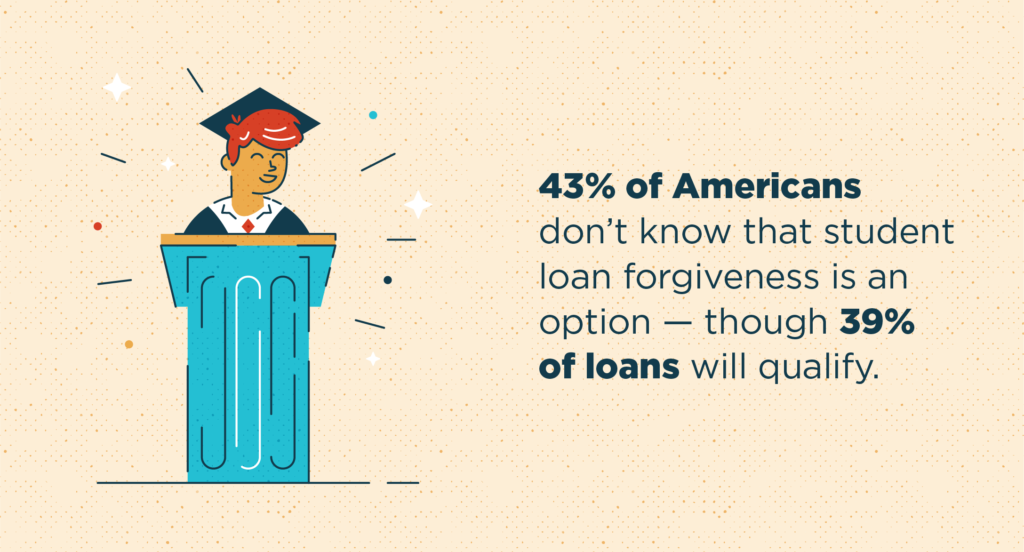 The student loan is one of the largest debts in the United States. In 2020 alone, almost 70% of college students have taken up loans to finance their studies.
On average, a student owes $30,000 after graduating. For someone who just left school and starting a career, this is quite a significant amount of money.
Most people pay their loans back at the start of their professional careers. Meanwhile, unlucky young adults can pay for this loan for the rest of their lives.
Some students are in particular circumstances that are granted student loan forgiveness to ease down the loan payment.
What Is Student Loan Forgiveness?
Student Loan Forgiveness is given to students to reduce the money they owe from their student loans. Some students don't have to pay any student loans if they qualify for a loan forgiveness program.
This type of financing was first implemented in 1965 when the federal government started rolling out student loans.
Bear in mind, student loan forgiveness does not apply to private loans or any other financial obligations.
Earning student loan forgiveness is more of an "exception" than the rule. Although a lot of students sought these benefits, strict requirements are often in place for each program.
There are two main ways to qualify for loan forgiveness; it's either you're a public service worker or if you're paying with an income-contingent payment plan.
Public Service
Students who graduated and received a job for public service will automatically get student loan forgiveness.
Public service jobs are those under:
Public safety,
Education,
Government,
Diplomacy,
Non-profit organizations.
Take note that loan forgiveness benefits might not always be active immediately due to the requirements.
Income-Contingent Payment Plan
In this loan forgiveness option, the student will receive a loan deduction or cancellation.
A portion of your income will automatically get deducted from your monthly income. If your income is low, the amount taken from your income will depend on your current paying capacity.
This plan is for debtors who are having a hard time paying their loans. People who are in this category might also be given total loan forgiveness down the line.
Some factors considered in determining the monthly deduction are gross income, family size, state of residence, and marital status.
How Does It Work?
Students who want to rid themselves of loan forgiveness benefits need to submit their application for the loan forgiveness of choice.
Usually, they will fill up a form based on the authority body's instructions that give loan forgiveness. This process can take a while since there will be a lot of things to verify.
Your application will either get approved or rejected based on the requirements submitted.
If your requirement is approved, you will receive your loan forgiveness benefit per the organization's policy that granted you forgiveness. However, if the organization rejects your application, you might want to look for a financial aid alternative.
More Details on How to Obtain Student Loan Forgiveness
As mentioned before, several authorities give loan forgiveness to qualified students. Be advised, the requirements are very strict and it is common for loan forgiveness applications to come up short.
So, don't forget to first check all the requirements for each forgiveness program before submitting your application.
Teacher Loan Forgiveness
The Teacher Loan Forgiveness Program is for teachers employed in any low-income educational classroom.
A teacher applying for this program should be "highly-qualified" and needs to be at the same school for five years.
Teachers are required to have taken certification or licensure exams to prove that they are highly qualified.
Eligibility Requirements:
Employed as an esteemed full-time teacher for five years after 1998
Employed in a low-income educational institution
The loan was created before your five-year teaching career.
Medical and Nursing Students
Nurses and medical students can also take advantage of loan forgiveness programs to reduce their debt.
A couple of educational institutions offer loan forgiveness or even cancellation for students who studied in under-served fields.
Eligibility Requirements:
There are several options to explore for medical and nursing students that need financial help.
Most of these programs have different requirements, and some are only available in individual states.
An excellent place to start is by knowing more about these national programs:
Nurse Corps Loan Repayment Program
Public Service Loan Forgiveness program
Federal Perkins Loan Cancellation
National Health Service Corps
Income-Driven Repayment Plan (IDR)
Like medical and nursing students, those who opt for the Income-Driven Repayment Plan have different loan forgiveness options.
Under this program, you can choose among four options, depending on what is the best choice for your current situation.
Revised Pay As You Earn – this plan is only eligible for those who aren't married and don't have graduate loans. What it does is cap your monthly payment to 1-% of your discretionary income, in which your remaining balance should be forgiven after 25 years of repayment.
Pay As You Earn – an option for people who are already married and have graduate loans. This plan is for people who cannot afford any high-amount payments.
Income-Based Repayment – If you don't qualify for the Revised Pay As You Earn Plan, this might be your only alternative. In this plan, you will have a repayment length of 25 years while your payment amounts are based on 15% of your income.
Income-Continent Repayment – this program is only for people who don't qualify in any of the plans mentioned above. You will have a 25-year repayment period, with 20% of your income deducted each month.