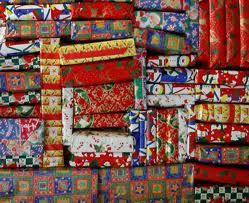 Fred and Angela have always loved Christmas, especially shopping for their kids and grandkids … unbridled shopping, as in thousands of dollars shopping. The problem is that Fred and Angela do not have thousands of dollars to spend on Christmas. To the contrary, they have tens of thousands of dollars in credit card debt, car debt and miscellaneous debt. But Christmas 2011 is going to be different for this couple. Instead of piling up more debt, they have drawn the line in the sand and are focused on paying down their debt.
Christmas is a huge obstacle for many couples who, in spite of their intentions for getting out of debt, simply don't have the resolve to stop the overspending at Christmas time. This annual buying binge is more sinister than a simple one time blunder … like alcoholics who have gone off the wagon, they feel so defeated that they lose hope in ever conquering their debt demons. Fred and Angela used to be that way, but this year they are "having the talk" with their family. I will come back to the talk in a moment, but first some prerequisites for that talk:
They have a goal.
For Fred and Angela, the goal was simple: get rid of this debt. They both realized that unless they took action, the debt would stick with them the rest of their lives.
They have a plan.
These two have created a cash flow plan whereby they can realistically get rid of all of this debt in three years. Yes, it will take sacrifice, but they are excited about seeing the light at the end of the tunnel.
They are in agreement.
Fred and Angela totally concur on their goal and their plan. Both realize that it will take tremendous teamwork, but they are discovering that joining forces against this common enemy is strengthening their marriage bond.
Having the talk.
Our couple plans to explain to their family that getting out of debt is a higher priority than an extravagant Christmas. The good news is that this will be a win-win talk. Why? Because Fred and Angela are not only staking their debt free claim, but also because their family, who is fully aware of how important Christmas is to these two, might just be motivated to better manage their own money.
Readers:  Have you, or anyone in your family, ever initiated "the talk"?   Do you or anyone in your family need to?