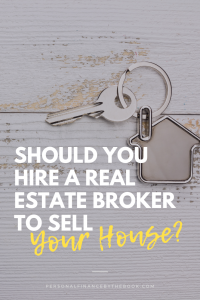 Before I go any further, I will state unequivocally,  "It depends."
Not everyone needs to hire a broker. But what should you consider before making your decision? Just like buying anything else, you should balance the cost against the benefit to determine which way the scales tip. Hopefully, this article will explain these costs and benefits with enough clarity to help you make your decision.
Assumptions
If you decide to hire a broker, I am assuming that you are going to hire the very best in your area, which means that I am also assuming that you are going to conduct interviews of several firms before selecting one. After all, you are hiring them for a job, so ask pointed questions, such as how many homes they sold last year, how they advertise, and exactly why you should pay for their services.
What can you expect from this high energy broker?
He knows the current market, so he will establish an objective market price for your home by showing you several comparable sales. He will also give you "days on market" statistics to let you know realistically how long the sale will take.
He has an inventory of potential buyers. He knows who has been looking, what they have been looking for, and if your house is a good fit for them.
He understands financing and how to qualify potential buyers. He can tactfully learn which prospective buyers can actually afford the purchase and which ones can't.
He understands the complexity of real estate transactions. As a licensed professional, his job is to look out for any potential problems that could bushwhack the sale.
He is motivated. He knows that he will not make a penny unless he sells your house.
He will pay for all advertising.
He will give you tips on how you can make your home more marketable.  Be it curb appeal, cleaning clutter or staging, he see things you may overlook.
He is an expert at negotiating, and as a third party negotiator, will save you the stress of face to face negotiating with savvy buyers.
He will show the house, allowing the potential buyers to ask candid questions that they may not ask if dealing directly with you.
He will present all offers to you, in writing, and explain the nuances of these offers.
He will expect you to sign a contract, which will include the time frame you have hired him for and the commission rate (commonly around 6% of the sale price of the house).
What can you expect if you decide to sell the house yourself?
You will need to do your own research of comparable sales in comparable neighborhoods in order to establish the market price. This step is critical. You need to know clearly why you are asking what you are asking so you won't waffle in the middle of a negotiation. If you start out asking too much, the house will sit on the market too long and then, when you lower the price to what it should be, buyers will be skittish because they think there must be something wrong with the house. If you ask too little, you might sell it right away, but will probably be wondering if you left money on the table.
You can expect potential buyers to be clever negotiators. Because you aren't using a broker, some will expect you to share that "savings" with them.
You will need to understand financing in your area so you can differentiate between prospective buyers and lookers.
You will need to hire a Real Estate Attorney to draw up the sales contract and also check other paperwork to prevent snags in the transaction. Depending on where you live, this might cost between $300 and $800.
You will need to do everything else the realtor would have done, including paying for advertising and showing the house.
Other considerations
If you have a mortgage on your unsold house and also on your new house, you will need to sell quickly to minimize the number of double payments you will make. You will therefore probably want to hire a high power realtor.
On the other hand, if you are in no hurry to sell, you may want to try it on your own.
Don't automatically assume that the commission fee is money from your pocket. A report by the National Association of Realtors shows that the average home in America using a realtor sold for $230,000 while the average home without a realtor sold for $198,000.
If hiring a broker, you should request a three month contract instead of the more common six month contract. Why? If you discover you hired a slacker, you don't want to be stuck with him for six months.
You should also check into NOT giving the broker "Exclusive Right to Sell". Doing so takes away from your right so sell, meaning your broker still gets his commission even if you find the buyer.
So…should you hire a broker?
If you are experienced in selling houses, are adept at negotiations, clearly know the market value of your house and are prepared to take it on yourself, then you should.
However, if you are like most people, you should consider hiring a professional broker.
Like I said, it depends.
What has your experience been in selling your house? Would you recommend hiring a realtor? Why or why not?