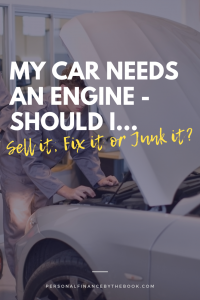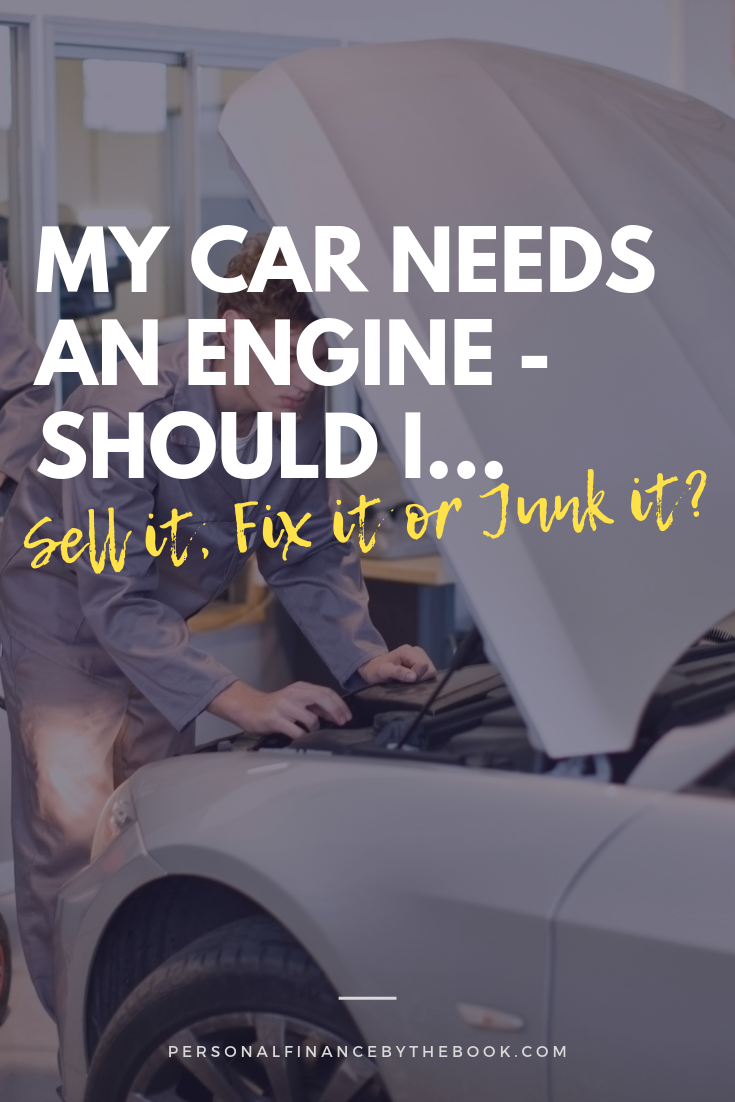 In my Change Your Mindset and Save a Fortune: 200,000 Miles is the New 100,000 Miles post, I bragged about my plans to save fortune by driving  my sweet 1999 Cadillac DeVille at least 200,000 miles. Well, we have trouble in paradise: my Caddy has an engine flaw…a head gasket leak that cannot be repaired; i.e. "I need to replace my engine."
To my credit, I did factor in the possibility of a major repair in my 200,000 mile post. In fact, I used a $10,000 "worst case scenario", assuming that both the engine and the transmission needed to be replaced. My premise was that one could still come out fine by spending the repair money and continuing to drive the car.
Now I am going to find out if I put my money where my mouth is.
Read along with me as I think this through. I will be asking for your thoughts at the end of this post.
Factors to consider:
I really do. It drives like a dream and makes me feel like a king every time I get behind the wheel.
It has 112,000 miles on it.
Yes, that is a lot, but not for an 11 year old car.
The replacement engine will cost … gulp … $5,700.
This is the cost of a Jasper rebuilt engine, including installation.   Northstar engines have a design flaw that makes head gasket problems quite common, but the Jasper rebuilt engine will have corrected the flaw. It will have a three year, unlimited mileage warrantee with it.
It still runs great. But because it is slowly losing anti-freeze, I can't trust it on any long trips without chancing it to overheat. It is therefore relegated to short trips.
Whatever choice we make will not involve borrowing money.
My choices are:
Continue to drive it on short trips and spend no money on it.
I imagine the leak would gradually get worse, but I could probably milk it along for months or maybe years.
There are many sealant type products available which claim to fix a leaking head gasket.  My understanding is that they might work for a while, but can't be depended on as a long term solution.  Besides, they might not work and could clog the heater core or damage the engine.  At least the Caddy is drivable now.  Experimenting with a miracle cure could render it inoperable.
Sell it and become a one car family.
Obviously, it is worth very little – maybe $1,000.  Who would want an 11 year old car that needs an engine?  But there is merit in scaling back to one car.  It would take some sacrifices for both of us, but Janice and I could make it work.  Her car is older than mine, so the money I would be spending to repair the Cadillac could go toward an upgrade of our newer family car.
I was not able to pin down a junk value, but I am assuming it would not be much more than $1,000.
Follow my logic here: if, while shopping for a car, I found a near mint 1999 Cadillac DeVille De Elegance (premium model) for $5,700 with a rebuilt and warranteed engine, I would be inclined to buy it.  It is difficult to assign a Kelly Blue Book value to a car with a rebuilt engine, but this model with this mileage with original engine books at about $4,900 Private Party or $6,400 Retail.  A newly rebuilt engine would make it more valuable, but how much more?  Would it compare to the same model with 50,000 miles, which is about $6,900 Private Party or $8,300 Retail?   Not sure.  Interestingly, the same car at 200,000 miles books at $3,400…certainly more than I can get for it now.
Simple math is this: if I spend $5,700, drive it for about 90,000 miles and sell it for $3,400, I would be getting 90,000 miles for $2,300…about 3 cents a mile.
On the other hand, if  I could sell it now for $1,000 and add that same $5,700, I would be able to purchase a $6,700 used car.  With no engine warrantee.  And with no assurance that there are not other hidden problems, which brings on another factor: I know this Cadillac.  I have babied it for years and am confident there are no hidden "surprises" waiting to be discovered.
We would still be needing to upgrade Janice's car, but if the Caddy is fixed and reliable, that upgrade would not need to happen immediately.
And remember: I love the car.
What will we do?
We are not sure yet, but Jan and I agree that we will be on the same page before we decide.  Right now we are leaning toward upgrading Janice's car, milking the Caddy along at least till spring, and then deciding whether to replace the engine at that time.
OK. Now tell me what you think. What did I overlook?  I confess that it is difficult for me to be totally objective because I have an attachment to this Caddy, so I covet your thoughts. Would I be throwing good money after bad?  What do you think I should do?  What would you do?