The Digital Age is wonderful and let's face it, it's a little scary too. Investment decisions are now made in front of a computer with a few clicks.
Mistakes Made by New Investors
Today, we're going to address some of the most common mistakes made by new investors so that you can potentially avoid them and build up a profile that is going to do what it's supposed to… make you money.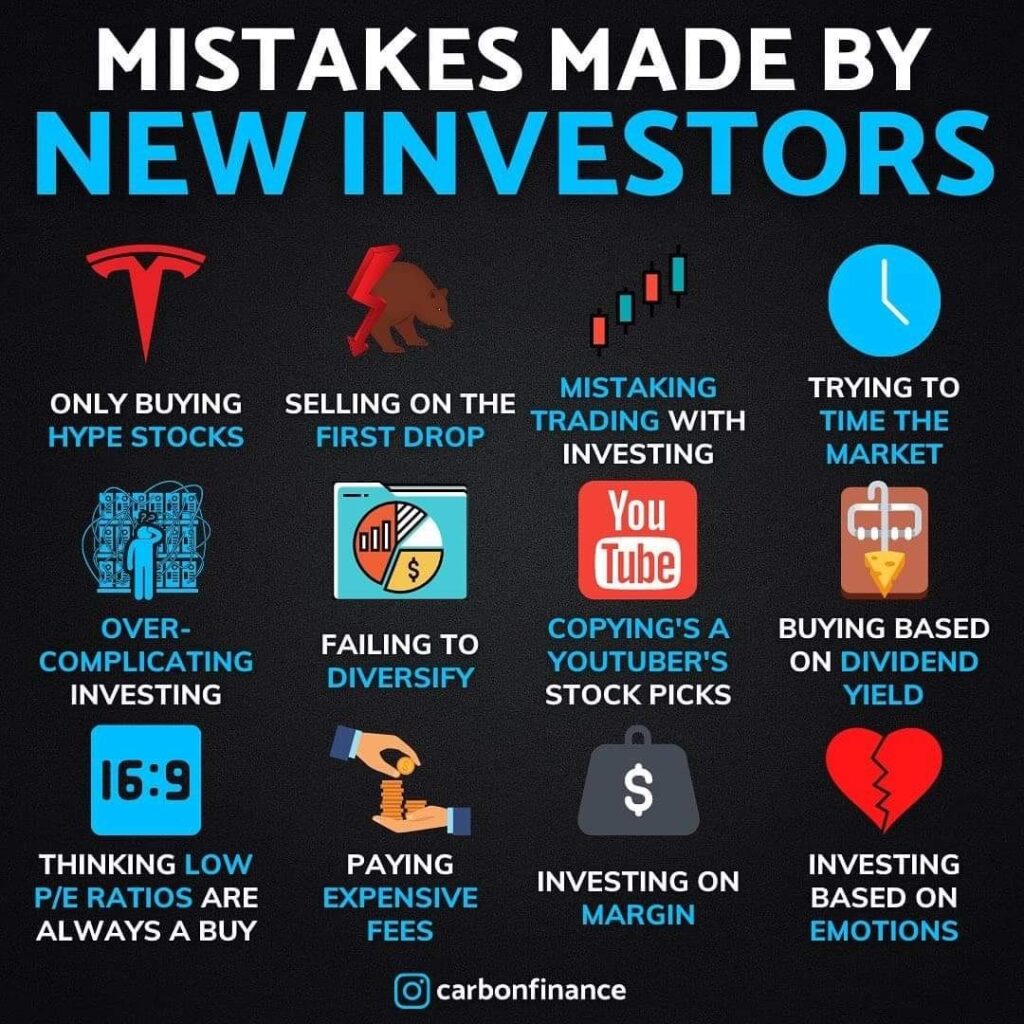 Pay close attention to the tips which we'll share today and you can avoid some of the pitfalls. And also ensure your financial success!
Ignoring Numbers and Making Emotional Decisions
Getting emotional. This is a common mistake that new investors make. You've decided to invest in a particular company and maybe they've made you some money over the years.
Now, they've been losing value for some time, but you don't want to give up on them.
This is a mistake.
While it's easy to develop an attachment to a company when they've made you a lot of money, numbers don't lie.
Simply put, if the ship is sinking, don't ignore this. You are investing your money to MAKE money. If your investment is no longer paying off then it's time to move to more lucrative horizons.
Failing to Diversify Your Holdings
Investment is about increasing your profits and reducing risk. When you are just getting started, the sheer number of options out there can be a little overwhelming.
https://www.fool.com/investing/2021/05/08/4-mistakes-new-investors-should-avoid-at-all-costs/
While you might consider setting up a meeting with a financial advisor, we do have a little advice on the subject of diversification.
When you want to make sure that all of your eggs aren't 'in one basket', here are a few options to consider:
Commodities
Stocks
Bonds
Real Estate
Cryptocurrency
By spreading out your investments, you are no longer 'chained' to a single-focus strategy.
So, if one of your investments takes a loss, you can still be making good money and the financial 'hit' is going to be much easier to take.
Trying to Break Even
Another common mistake that people make is trying to "break even."
Let's say that you've invested in a company where the value fluctuates frequently and usually it's been in your favor. Now, they are losing money slowly but surely and you find yourself waiting for the winds to change.
You tell yourself that this company has made you enough money that you're going to simply wait until you can make back your original investment and this is where you are going to get in trouble.
If an investment isn't making you money and it's not going to change any time soon, then it's time to move on.
Learning to accept the hit is a hard lesson but it's something that every successful investor has learned to do.
Not Fully Understanding Your Investments
Finally, one of the most common mistakes that new investors make is simply investing without fully understanding their investment.
Some investment types are much riskier than others. Examples include:
Venture capital
Cryptocurrency
Stocks
Hedge funds
Investments in riskier options like these can cost you a lot of money, especially since you are new to investing.
When you are just getting started, the best strategy is to go with safer investments so that you can get a little bit of regular capital flow started.
Nothing is going to be 100% risk-free, but some excellent low-risk options include:
Bonds
Fixed-rate annuities
Segregated and Mutual funds
Index funds
Savings accounts with high yields
Closing Advice
Investing your money is a solid life choice, but you want to take your time and learn the rules before you start investing serious capital.
Pay attention to the numbers and don't become emotionally invested in companies. Remember, you're here to make money. If the ship is sinking then don't even try to break even, simply learn when to move on.
Diversify your holdings so that a single loss won't be able to cripple or discourage you.
And, when you invest, always make an informed decision. If you aren't sure, a single consultation with a financial advisor can make all the difference between a modest profit and a brutal loss.
Most of all, be patient.
Once you start to learn the world of investment then a lot of doors are going to open up to you… and this time you'll know exactly what's waiting for you behind them!