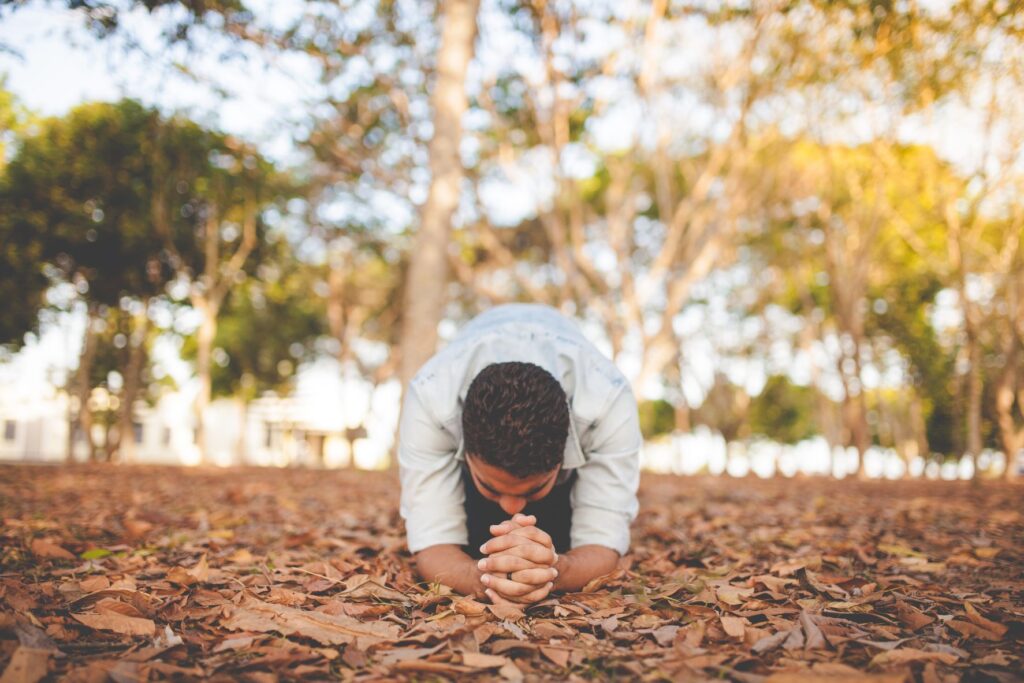 If you find yourself in financial need, the anxieties and stresses can be overwhelming. You may not know how to get out of the situation.
Try to remember, as we read in 1 Peter 5:7, that we can cast our cares and anxieties upon the Lord, for He cares for us. As you immerse yourself in prayer and scriptures, you will find hope.
Let us dive into the scriptures to help you seek your financial breakthrough through prayer.
Instructions for Powerful Prayers
The proper mindset can help you connect better with God. This will amplify your prayers and the help you receive from on high.
https://www.guideposts.org/financial-breakthrough-day-of-prayer-spiritual-remedies-giveaway
Calm Your Mind
You will be able to hear the spirit and its comforting guidance more if your mind is calm. You can do this by taking several deep breaths before you begin your prayer. Reflect on the blessings God has given you and the strength He can give.
Things to Include in Your Prayer
It is important to remember the way that Jesus demonstrated prayers in the scriptures. That example sets the way for how we can pray to our God for more strength.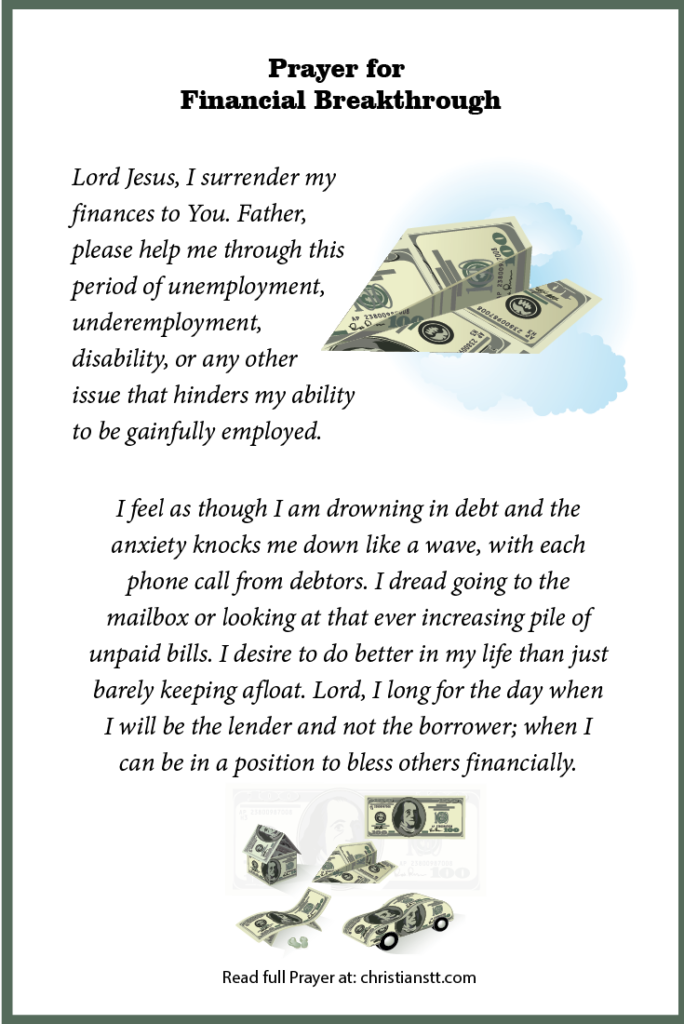 1. Address God– There are many ways to address God. Always use respect when addressing God. Some examples of ways to open your prayer include "Dear God", "Dear Father in Heaven", "Father in Heaven", or "Dear Holy God." Just make sure you show respect and address God at the start of your prayer.
2. Be Specific– Be specific about what you need. If you need help with your business, ask for that. If you need assistance with debt, ask for the amount of money you need to get on your feet.
3. Express Gratitude– While you may be focused on what you need, your prayers will be stronger. You may not be feeling grateful for your financial situation. That is alright. Express gratitude for God, your family, your friends, your job, the food you eat, the sun in the sky, and anything else that makes you remember blessings from God.
4. Close Your Prayer– Close your prayer in the Lord's name and say "Amen."
5. Use the Scriptures– Study, recite, or explore scriptures related to your needs to strengthen your prayers. You may find added strength, power, or guidance from these scriptures.
Prayer for Debt Forgiveness and Financial Breakthrough
My Father in Heaven,
I come before you in humility to ask for help. I admit that I have erred. I have accumulated debt. I know You warn us against this folly, and I come to you to ask for forgiveness. Forgive me and guide my mind to the path You have set for me.
I implore You to intercede for me. Help me find a way out of this debt. Give me the financial bounty to regain my strength. Help me escape this debt so that I may focus my work on spreading Your good word.
I thank You for everything that You have given me already. I humbly express my gratitude for Your help and guidance in my life.
I close this prayer in Your holy name, Amen.
Matthew 6:12 "And forgive us our debts, as we also have forgiven our debtors."
Prayer for Money Wisdom and Financial Breakthrough
Dear God,
I come before You now in a time of need. First, I acknowledge Your omnipotent hand in all things. I am so grateful for the blessings You have bestowed upon me. Thank You for sending me love and comfort when I have needed it most.
Today, I pray for increased wisdom. I know that wisdom is a gift from You, and today I ask that you will increase my wisdom, particularly my financial wisdom. Help me to know which righteous causes are worth my money. Help me preserve my money so that I may be prepared temporally.
I offer this prayer in Your name, Amen.
Proverbs 2:6 "For the Lord gives wisdom' from his mouth come knowledge and understanding."
James 1:5 "If any of you lack wisdom, let him ask of God, who gives generously to all without reproach, and it will be given him."
Prayer for Financial Increase
Holy God,
Thank You for hearing my prayers and answering them. Thank You for guiding me and protecting me from harm. I am grateful for Your scriptures and Your comfort. I pray to You now to ask for a particular blessing over my work.
Please bless my efforts and multiply them so that I may achieve greater financial stability. Guide my hands, my mind, and my spirit as I work. Help me to be efficient and productive. Help me to be strong to endure through this difficult time.
I know that as You bless my work efforts, I will be able to accomplish more than I could on my own. I need Your power, strength, and guidance, and I humbly ask for your help.
I close this prayer in Your name, Amen.
Deuteronomy 28:12 "The Lord will open the heavens, the storehouse of his bounty, to send rain on your land in season and to bless all the work of your hands."
Final Thoughts
Remember to pray to the Lord in all of your endeavors. Pray to Him when things are good, as well as these times when you struggle. As you strengthen your communication with God and your study of his word, you will find greater guidance in your life.