So, you want to figure out your net worth. A person's net worth is kind of like their net income. But in the sense that all liabilities or debts are subtracted from the value of their assets.
The formula for calculating your net worth is the sum of your assets minus the sum of your liabilities. However, the calculation starts by adding all your assets and liabilities separately.
Below is a step-by-step process for calculating your net worth.
1. List Your Assets
Your assets include anything you can sell or convert into cash. Any cash you have saved or stashed counts, too. Think savings accounts, properties, vehicles, retirement savings, and marketable personal items.
To be a true asset, you must have ownership rights. So, you can't count vehicles, properties, or belongings you rent.
2. Figure Out the Market Value of Your Assets
For each asset, list its market value. That's easy for 401(k)s and pension plans. You know how much you have in those accounts or what your annuity payments are worth.
But for assets like homes that appreciate, you'll want to list them at their current market value. The same principle applies to assets that depreciate, such as cars.
Once you have the market values for every asset listed, add them for a total.
3. List Your Liabilities
Next, you need to list all your liabilities. These are usually outstanding debts you owe. Things like mortgages and credit card balances are prime examples.
Regular bills, such as utilities, do not count as liabilities. The only time utilities will count is if you have past-due invoices. Alternatively, money owed to you in the past is in collections.
4. Add Up the Values of Your Liabilities
As you list out your liabilities, include the owed amounts. The amounts you owe can include principal balances, late fees, and pending interest charges. After listing all the amounts, add them up to arrive at a total.
5. Subtract Your Liabilities from Your Assets
You can figure out your net worth now that you've got totals for your assets and liabilities. Subtract your liability total from your asset total. That number is your net worth.
Here's an example. Say you have $100,000 worth of assets and $50,000 in liabilities. Your current net worth is $50,000.
However, it is possible to have a negative or zero net worth. You have a negative net worth when your liabilities exceed your assets. A zero net worth occurs when the amounts of your liabilities and assets match.
While a zero net worth is unusual, it can happen!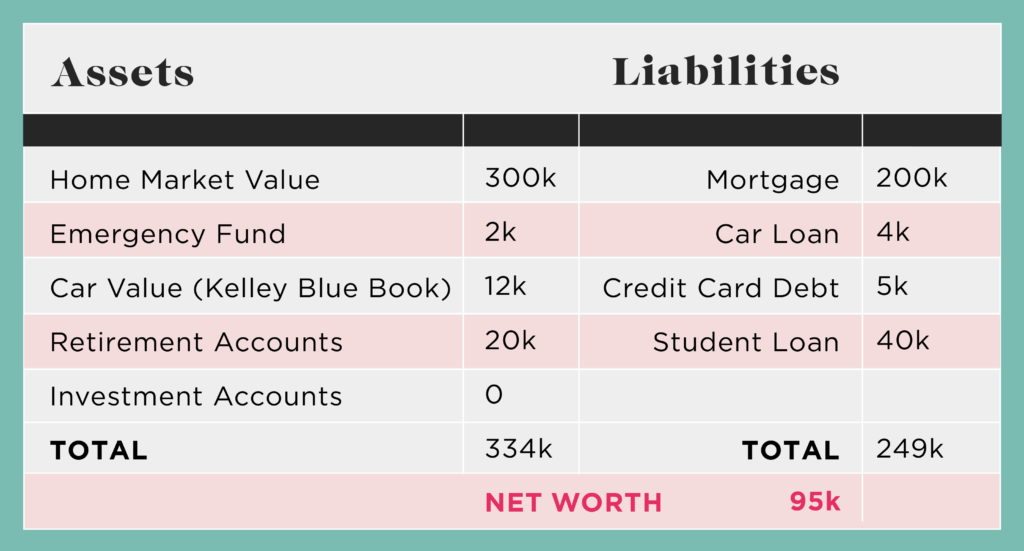 Can I Calculate My Future Net Worth?
This one is a bit trickier. However, you can estimate your future net worth based on debt repayment, appreciation, and depreciation schedules.
Keep in mind that your calculations will be more accurate if you use shorter timelines, such as a year or two out.  
Let's say the experts project home values to rise by 5% in the next year. You also know your mortgage balance will go down by $3,000. It's currently $150,000, and today's market value of your home is $250,000.
You can expect your home's value to be $262,500 and your mortgage balance to be $147,000. So, if your only assets and liabilities are your home and mortgage, your net worth will be $115,500.
Conclusion
Calculating your net worth is easy once you know the value of your assets and liabilities. You also need to know what those resources and obligations are. Net value is simply the market value of your assets minus the current value of your liabilities.