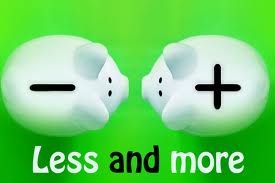 Julie* is a single woman, fortyish, who lives a full life. She is actively involved in the County Writer's Guild, volunteers for a variety of service projects, and is commonly spotted at our community's many Saturday morning yard sales. Julie has a quick smile and engaging personality; our paths seldom cross without her taking time to ask me about my family. With no debt and a $12,000 emergency fund, Julie has few money worries.  Oh…did I mention that she has a minimum wage job?
"How", you ask, "does she do it?"
Great question. She practices the most important principle in personal finance: she lives on less than she makes.
Julie lives in a small, inexpensive apartment. She opts for a bicycle with a carrying basket over owning a car. Understand that this is rural Southern Illinois where public transit is nearly non existent. I asked Julie once if she would like to have a car. She hesitated, smiled briefly, then replied, "Well, I suppose that would be nice…if I could afford one. But I am not going to sacrifice my emergency fund to buy something I can get by without."
I admire Julie, don't you?
Pearl* and Matthew* are a couple in their late forties who, with a combined take home pay of $14,000 a month, have less net worth than Julie: negative $30,000. Those numbers are not typos. It is $14,000 as in fourteen thousand dollars. If they sold everything they owned, they would fall $30,000 (thirty thousand dollars) short of paying off their debt.
"How", you ask, "could they get in such a mess?"
Again, great question. They do not practice the most important principle in personal finance: they do not live on less than they make.
I write this to underscore the significance of this one principle. Whether you earn a lot or a little, following this principle will guide you well throughout your life;  ignoring it can shipwreck your finances.
"But…but…I have too many bills! There is no way I can live on less than I earn."
I realize it isn't going to be easy, but never say never. You may need to cut out some of those bills and take on a second job to pay off existing debt. You may need to sell a car…or two. Let Julie be your inspiration…if she can spend less than she earns, you can too.
Here are 3 reasons to live on this principle:
1. You will always manage your money when you get more.
When you know how to manage a little, you will be able to manage more. I have no doubt that Julie will continue to spend less than she earns even if her income were to double or quadruple. I don't have that confidence for Pearl and Matthew, who have never proven that they can keep the principle at any income level.
2. You are ready for emergencies.
Julie is much more ready for emergencies than Pearl and Matthew are; a job loss would put a temporary dent in her emergency fund, but because she has practiced living on less than she makes, she would figure out a way to get by. Besides, another minimum wage job, although not ideal, would not be hard to find.
3. You will experience peace of mind.
The knowledge that you can make it through tough times will give great peace to your life; after all…you have done it before and you have confidence you can do it again. Julie's frugal lifestyle gives her tremendous peace of mind. Pearl and Matthew, on the other hand, live very stressful lives because they have no confidence that they can manage what they have. Their consumption lifestyles have become an emotional curse.
The most important principle in your personal finance is to spend less than you earn. The stories of these two families illustrate that very little income is not an excuse to break this principle and that much income is not a guarantee that one will keep it.
Readers: do you keep this principle in your own lives?  If so, have you always done so?  If not, what would it take for for you to start doing so?

*not real names