Many people in their early years of work don't factor in savings for their retirement, as the prospect seems too distant in the future.
However, this can make a big difference in how comfortably you'll be able to spend your retirement the time comes.
Knowing how much you should ideally have saved will help keep you track, ensuring that you're putting enough aside each year.
In this article, we are going to be discussing how much money you should have saved for your retirement by the time you reach 40. And how you can organize your savings to reach this goal.
How Much Money Should You Have Saved for Retirement Based on Your Age?
How much you need to save for your retirement largely depends on how you'd like to spend it. However, experts say that over the entire course of your career, you should have saved 15% of your total income towards your retirement.
https://www.moneyunder30.com/how-much-do-you-need-to-have-saved-for-retirement
By the time you are 40, is it recommended to have saved 3x the amount of your current income.
So, for example, if you earn $30,000 per year, you should have $90,000 saved for retirement.
This means that by the time you're 30, you should have twice of your current income saved. And by the time you are ready to retire at 67, you should have 10x of your income saved. 
How Much Money Do People Actually Have Saved in Their 40s?
Putting away such a large chunk of your salary can be daunting, and at times very difficult to manage.
In reality, Americans in the 40's age group have managed to save an average of 8.9% of their current income.
This means that if your yearly income is $30,000, the yearly equivalent of savings equals $26,700, and the total savings falls slightly under the recommended amount at $80,100.
The Best Ways to Save for Retirement
To reach the recommended savings amount by the time you're 40, you should start putting away 15% of your yearly income into a pension scheme at the age of 25.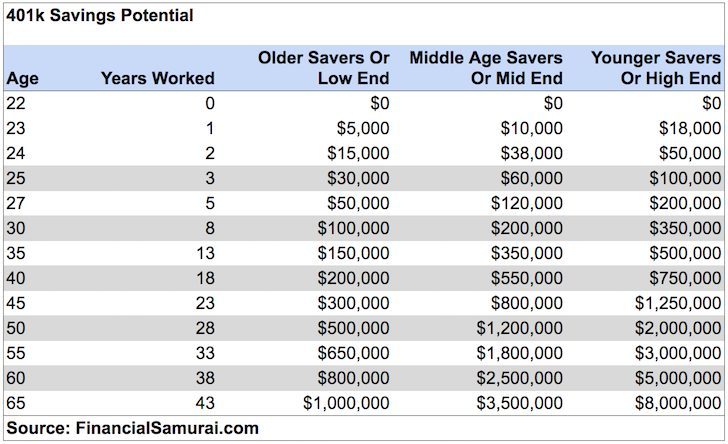 There are 3 main ways to put money aside for your salary which are mentioned below.
401(k)
This is a company-sponsored plan where the employer directly sends a portion of your paycheck into your pension scheme.
The downside of the standard 401(k) is that the pension money gets put aside before taxes. This means you'll be required to pay income tax when you withdraw this money during retirement.
The alternative is opting for a Roth 401(k), which gets sent to your pension. Generally, companies aim to contribute up to a certain percentage of the employee's annual salary.
IRA (Individual Retirement Account)
This is mainly aimed at those who are self-employed and freelancers. However, you can also open an IRA if you want to save extra money for your retirement on top of the 401(k).
An IRA comes in both the traditional option and the Roth option depending on the type of plan. 
Other Investment Accounts
Once you have either a 401(k) or an IRA, you can also invest in a brokerage account.
This can be done through a financial planning firm. It allows you to skip certain restrictions on your contribution allowance when it comes to withdrawing retirement money. 
Conclusion
Although saving for your retirement may be daunting, it is very important. It can help you ensure that your family can live comfortably after you retire.
The younger you start to save, the more likely it will be that you'll reach the recommended saving amount.