As inflation rises, budgets tighten. Individuals who were barely making ends meet with one job may be forced to look for another job to increase their earnings and put food on the table.
More and more people are looking for small side hustles to do at home in their free time.
As the economy wobbles, the need for additional income increases. The demand for side hustles increases each day. Some research suggests that younger generations are more likely to take side hustle jobs.
Let us look at some side hustle ideas, what they are worth, how much money they could make you, and how to start your side hustle.
What is a side hustle?
Before we jump into the different side hustles available, it is essential to understand what a side hustle is. A side hustle is job that means of making money alongside one's primary income.
What kind of side hustles are there?
People have all kinds of side jobs, and some of them are passion or hobby jobs, like dog-walking or novel writing.
The keys to successful side hustles are flexibility and income, and they make use of skills you already have.
An effective side hustle will bring in money, but it will also give you freedom. Let us look at some examples of side hustles.
Food and other delivery services
DoorDash has recently partnered with more companies, creating a delivery service of its breed. Doordashers can deliver food, prescriptions, and groceries to consumers and make $20 an hour.
GrubHub and UberEats are other food delivery services with equal pay and features. Chances are, wherever you are located, one of these delivery services is available.
Rideshare services
Uber and Lyft are ridesharing services. Plus, drivers make anywhere from $2 to 10 per ride, plus you get to keep your tips.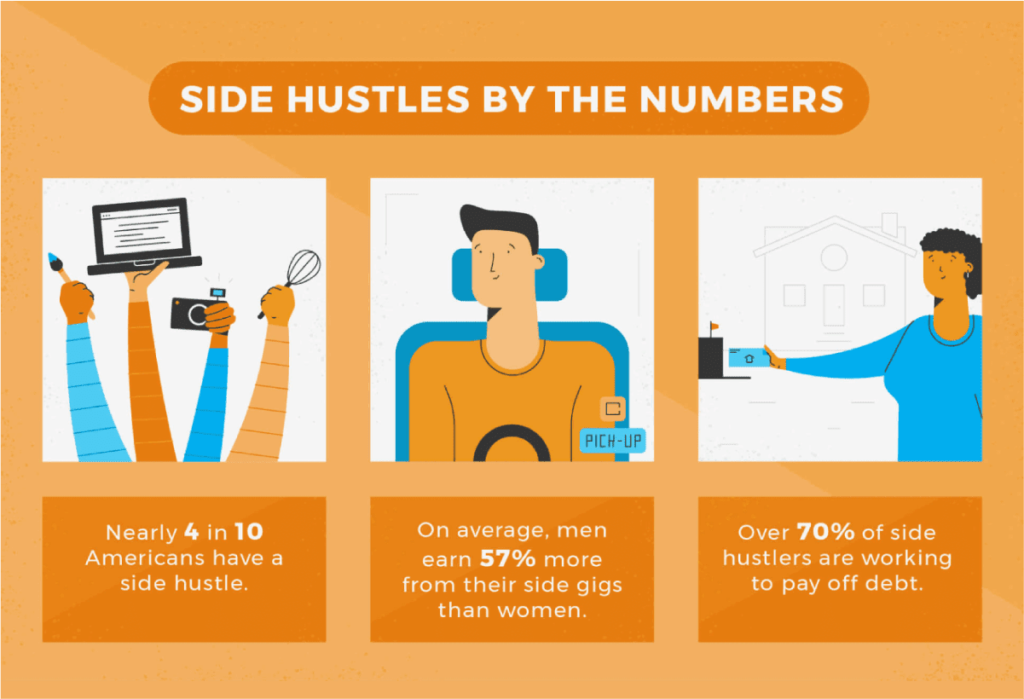 Writing and editing
Blogging can be a lucrative way to increase your passive income potential. Stick to a niche, produce content regularly, understand the basics of SEO and marketing, and show passion for what you write. You could create an income stream that becomes a side hustle or even a primary income stream.To make money blogging, you will need to grow an audience and choose to monetize your blog. You can monetize your blog by using ads, affiliate links, or sponsorships.
Copywriting is a great side hustle. Writing copy for ads, emails, web pages, sales pages, opt-ins, sales funnels, and more can be a very lucrative side hustle. You can make a significant income by finding regular clients and learning digital marketing skills (like SEO).  You do not need a degree or perfect grammar to get started. Start by looking for opportunities in the writing field.
You could potentially find remote proofreading or editing jobs to earn additional income. Additionally, can edit or proofread others' work, give feedback to the writer, and make some extra cash on the side!
There are lots of opportunities available to do freelance writing. You can try job boards like Fiverr or Upwork, although they are not likely to be sufficient over the long term. To make freelance writing a side hustle, you are going to want to find small businesses (online or local) and write for them. Moreover, you will want to find repeat clients to create a steady and ongoing workflow for yourself.
eCommerce
If you are an entrepreneurial spirit or a creative individual, you may want to try e-Commerce.
Online stores are a great way to create a side hustle. They allow you to turn your passion and skillsets into a profitable business! You could use Etsy, eBay, Shopify, Wix, or even Squarespace. There are so many platforms to use for e-Commerce that you're bound to find something that works for you.
These stores have start-up and recurring costs, including website domain, hosting, and inventory.
If you want to run ads for your store, you will be looking at more expenses. This is a great side hustle if you have extra capital to work with, but it is a high up-front investment.
On the other hand, you could try Etsy. You do not have to worry about all the details, like your website's domain, design, and hosting.
Instead, you add your listing for a small fee and wait for it to sell. You could generate passive income if you sell evergreen products like printable products.
Teaching others your skills
If you have a specialized skill set, you could potentially create an online course for it, sell it, and create a passive income this way.
For example, if you started freelance writing as a side hustle, you found it to be a great income stream, and you have been able to replace your regular income with it, you could sell that information in a course and book package.
Other people are willing to pay for knowledge. You could sell your class on Skillshare or self-publish your how-to book on Amazon. Publishing a book or putting a course for sale online is a side hustle. The labor is all up-front, while the rewards could be lifelong.