Are you planning a garage sale to get rid of some things around your house? You can do some specific things that will drive more people to your garage sale, help you get rid of as much as you can, and make some money. 
Keep reading if you want to ensure that your garage sale is successful and lucrative! This article will discuss 10 ways to make your garage sale a hit!
1. Promote ahead of time
No one will come to your garage sale if no one knows about it. So once you have set a date for your garage sale, think of creative ways to advertise it in the weeks leading up to the sale.
A great place to start is on local community Facebook groups or Craigslist. Create a post the week leading up to your garage sale, listing the types of items you plan to sell along with the sale's date, time, and location. 
If you will be selling big-ticket items like furniture or items in high demand, take photos in advance and add them to the post so that people can get a sneak preview.
They will be more likely to come and see what else you have if it looks like you are selling nice things. 
You can also consider putting up flyers on community boards at local coffee shops, grocery stores, or libraries to advertise your garage sale.
2. Make it a neighborhood affair
Chances are, your neighbors probably have a lot of stuff they would like to get rid of too, so ask them to participate in the garage sale with you.
Also, if you advertise it as a "multi-family" garage sale, more people will probably come to check it out because there is more to choose from in one stop.
Check with your neighbors to see if they are interested and select a date that works for everyone. This is a fun way to spend time together, get rid of unwanted stuff, and make some money!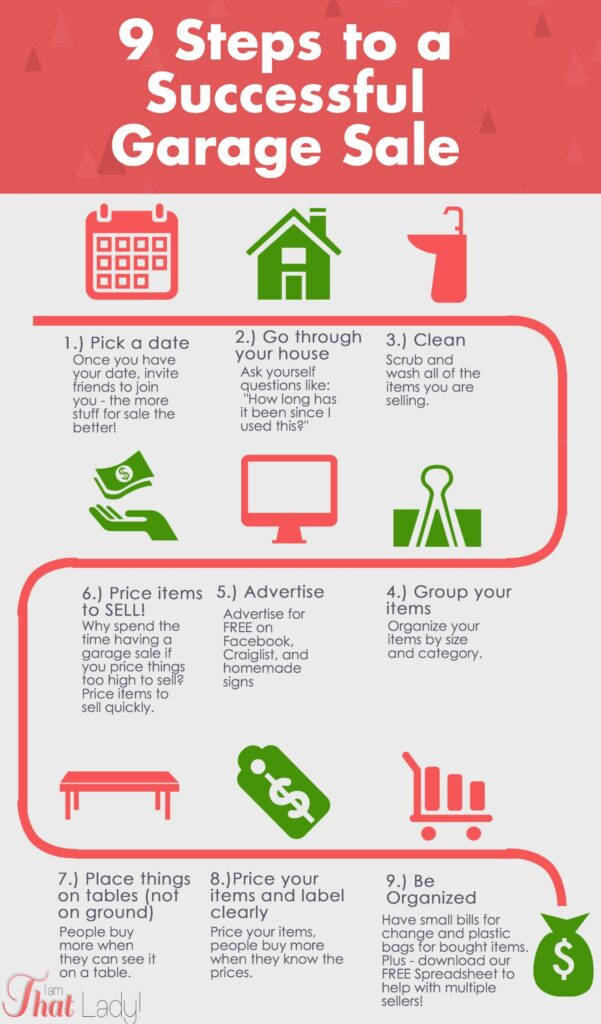 3. Clearly label your items
Whether you plan to put stickers on your items or have signs on tables or bins for everything at one price, make sure your labeling is clear.
Having transparent prices will minimize confusion during the garage sale so that your customers do not have to ask you the price of each item.
For large signs, use a thick black marker on a large piece of paper or poster board to make your sign easy to read.
If you put price stickers on individual items, use a pen or marker with dark ink that will not run or a color-coding system. But, again, make sure you write clearly and as large as you can. 
4. Street signage
Never underestimate the power of a street sign to advertise your garage sale. You can find garage sale signs at almost any office supply or convenience store. You could also make your sign using some poster board or even a large piece of cardboard.
The same rules apply to street signs for labeling your items. You want to use clear, large block handwriting and dark ink on a light or bright background. Neon poster board and a black permanent marker are great options for getting attention.
Put signs at the end of your street where it intersects with other neighborhoods or the main road to draw garage sale goers in.
If there are multiple intersections, put a sign at each one. 
5. Have plenty of change on hand
Garage sales are a cash business. Since you are likely to have items listed for different prices and people are unlikely to have exact change, it is essential to have some cash on hand to make change for people.
https://www.hgtv.com/lifestyle/clean-and-organize/top-tips-for-throwing-a-successful-yard-sale
Go to the bank the day before your garage sale and take out $50 or so. Make sure to ask the teller for a variety of bills, but $1 and $5 bills are your best bet to enable you to make change for your first few customers before your sale gets going.
6. Clean up your stuff
Some of the things you are selling at your garage sale may have been collecting dust in your basement or at the back of a closet for months or even years.
Take some time to clean and dust your items before putting them out at your garage sale. 
Although garage sale goers understand that they are buying used items, appearance still counts. Make sure everything looks clean and nice. This will go a long way with your potential buyers.
7. Group similar items together
Consider selling things as bundles to entice your buyers. For example, if you are selling many clothes, consider making bundles of a few similar style shirts or pants. The same goes for DVDs or CDs; group them by genre and price them as a set.
If you are selling dishes or other kitchenware, this is an excellent opportunity to sell things as a set too.
Price the set competitively and put them in a box or container together. This makes it easy for customers to grab the set, see the price, and purchase it.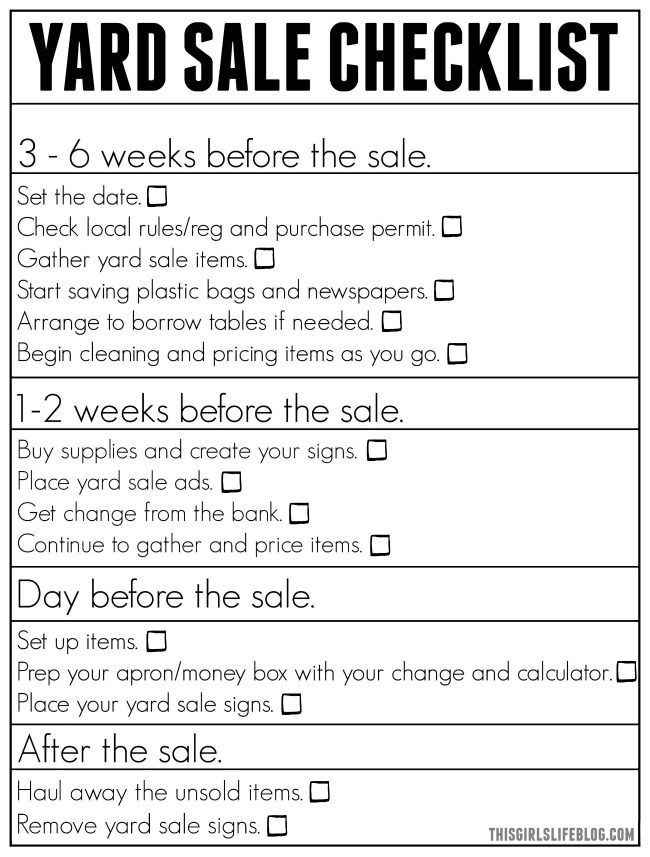 8. Set up to sell
The way you organize your garage sale will determine your success. Put big-ticket items and more attractive items closer to the street for people to see. This will draw in potential buyers and encourage them to stop and browse.
Make sure you have plenty of tables so that your items are not cluttered. Borrow tables from friends or family members and make good use of the space.
Avoid stacking things on top of each other on the tables so that everything is easy to see and browse through. 
9. End of sale markdowns
You know you don't want to bring anything back into your house at the end of your garage or yard sale, so do your best to get rid of everything! A great way to do this is to mark down the prices for the last hour of the sale.
For example, if you hold your garage sale from 9 am-2 pm, drop your prices at 1 pm to encourage buyers to take more. You can cut prices by 50%, or if you are determined, say that everything is $1 for that final hour.
10. Donate
Call a local charity and find out how you can donate everything that does not sell during your garage sale. Often, you can schedule a pickup right at your home where they will come and take everything off your hands that day. You can also drop it off at a local donation center.