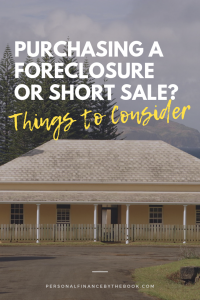 A recent article in Money magazine about purchasing a home through a short sale or foreclosure really piqued my interest.  With over one million unsold foreclosures and 550,000 probable short sales, the market is full of buying opportunities.  To add to those numbers, RealtyTrac predicted that another 1.4 million properties would be added to these lists in the next 12 months.
After I wiped the drool off my opportunistic little face, I was smacked with the reality that buying one of these homes isn't just a cakewalk.   I did a bit of research and found a few things to consider before pursuing a foreclosure or short sale.  (I'd highly recommend doing extensive research about each sale process – these are simply things to consider right out of the gate.)
Considering a Short Sale?  Things to know:
Short sales can take anywhere from 2 to 6+ months to close.  Don't expect to find a deal right away and sneak in with a short sale.
Make sure a short sale package has been completed and received by the lender. The short sale package generally includes these items from the seller:
Purchase Contract
Last 2 years of tax returns
Last 2 months of bank statements
Last 2 pay periods of pay stubs
Preliminary HUD-1 / Settlement Sheet (breakdown of closing costs)
Not all agents are created alike.
Find a listing agent who has actually closed a few short sales in the last 12 months.  You don't need someone new to the game when you're trying to close a great deal.
Be ready to bid above the list price.
Those really cheap listings look attractive, huh?  In reality, bids generally end up pushing beyond the list price; that doesn't mean you won't get the house for a discount.  You just need to be aware of the market price for the area.
Considering a Foreclosure?  Things to Know:
Make sure the home can be financed.
You'll probably have to prove that the home is in good enough condition to be financed.  It may be a great deal but if you can't find anyone to finance it because it's been trashed, you might be out of luck.
**If you're serious about a foreclosure, it's wise to have it fully inspected.  This might cost you $300 or more.  Check with www.ashi.org or nahi.org for a home inspector in your area.
Be leery of liens.
The last thing you want is to close the sale but have a lien tied to your new home because of unpaid taxes or other obligations.  You might want to involve a real estate attorney to make sure the property is free of legal surprises.
Find a bank that's ready.
The bank servicing the mortgage may not actually own the loan.  If they do, it can make the process much quicker.  If not, you'll have to involve another party and play the rules according to their terms, which may be even stricter and more burdensome.
Have you ever purchased a home through a short sale or foreclosure?  What was your experience like?  Did you get a great deal?
Tim is a personal finance writer at Faith and Finance a Christian financial help blog that provides financial insights for individuals, businesses, and churches. Outside of finance, Tim enjoys spending time with his wife, playing the saxophone, reading economics books, and a good game of RISK or Catan. Find him on Twitter and Facebook and subscribe to the Faith and Finance RSS feed.