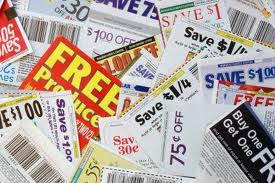 I am sure you have read about extreme couponers: people who after scanning, scrutinizing, analyzing and clipping, can buy a car load of groceries for pennies.  I salute these dedicated savers, but if you are not that person, don't ignore coupons altogether. We are talking free money here, so give these simple, non-extreme tips a try:
1. Clip the coupons.
Where do you find coupons?  Here are five sources:
Sunday newspaper.
Ask a friend or neighbor for coupons from their newspaper.
Check the entryway of stores where you shop.
Perform an online search for printable coupons.
Peruse the weekly supermarket flyer you get in the mail.
2. Plan a weekly menu based the store's featured sale items.
If chicken is on sale, plan to eat several chicken related meals. If you see a special on ground beef, plan some ground beef meals. Make sure you add store coupons and manufacturer's coupons for extra savings.
3. Be flexible.
You can't always be brand loyal – be open to trying new products.
4. Choose your shopping venue and days.
Does your grocery store offer double or triple values on coupons? Do they honor all coupons? Do they do so only on special days? Plan your shopping to take advantage of the best offers.
5. Don't forget non-grocery items.
Even if you are not low on paper towels, soap or razors, take advantage of those coupons. My niece recently used some $1 off coupons on some $0.99 bottles of dish-washing detergent — effectively getting paid a penny for each purchase.
6. Don't buy items just because you have a coupon.
Your goal is to save on items you need, not buy stuff you don't need just because you can get a discount. A bargain isn't a bargain if you don't need it.
7. Be savvy.
After we recently used a store coupon to get two 48 ounce containers of Breyer's ice cream for the price of one ($6.50), we  discovered the very same ice cream on sale at a different store for $2.50 each. Lesson: a coupon isn't a magic panacea.
8. Organize your coupons.
You don't have to be over the top here, but a little organization can go a long way. My wife draws a circled "C" on her shopping list to indicate items she has coupons for. She then organizes the actual coupons by department in the store (produce, frozen foods, etc) and, as she places the coupon item in her grocery cart, she also places the coupon for that item in a folder to give to the cashier.
9. Storage.
If you have extra coupons for non-perishable items that you know you will eventually use, buy all you can afford and store them. Of course you will need to designate a place in your home for storage, but doing so will allow you to never, ever pay full price for many items. If you can't resist a great deal and don't have the storage, give those items to your local mission or food pantry.
Bonus tip
As you master grocery couponing, you will develop the mindset of always using coupons for anything and everything you might purchase. Your computer, of course, is your friend, so take a moment to check the merchant's web site before purchasing. Sites like Cabelas Coupon, Macy's and Walgreen are constantly updating their coupon offers, so don't leave home without doing your homework.
Following these tips will take about an hour each week and will save you $25 to $50 each week. Is your time worth $25 or more an hour? If you answered "yes", start clipping those coupons today.
Readers: Do you clip coupons?  If not, why not?  If so, what additional coupon tips do you use?