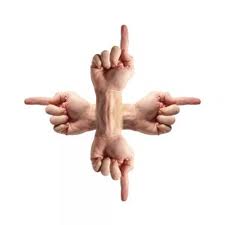 "Mr. Thomas, our records indicate that you haven't made any car payments for the past four months.  Do you anticipate bringing this account current in the near future?"
"Well, you see, my boss sent me on a special assignment to France, but our plane was forced to make an emergency landing in the ocean.  I was able to swim to an island but discovered that it was inhabited by cannibals.  Just as they were preparing a pot to boil me in, I was able to jump on the back of a dolphin which delivered me to a fishing boat.  But the men spoke no English and I was forced to stay on the boat for weeks before I was finally delivered to Portugal.  I made it to the US Embassy where they arranged transport to France, but because I missed my assignment, I lost my job.  I had to find work washing dishes to earn enough money for my return flight.  I only arrived home yesterday."
"Do you honestly expect my to believe such a story?"
"No.  But I couldn't make the payments and I figured one excuse is as good as another."
Our excuses
Corny?  Of course.  But I got your attention, didn't I?  Yet I ask: "Compared to some of the excuses we make, is it really all that far fetched?"  What excuses do YOU make for not living up to the potential you were created for?  Most (and I am including myself here) are pretty lame.
I believe that each of us was put here on earth for a reason, and that God has uniquely equipped each of us to have the capacity to fulfill whatever purpose we are here for.  Is it easy?  Hardly ever.  But making excuses is tantamount to telling God that his design is inadequate.
Do any of these excuses sound familiar?
"God couldn't use me.  I don't have any particular talents."
Truth: God has given you exactly the talents he wants you to have.  When God created you, he knew what would make you tick.  He put seeds of greatness in you; seeds that will only germinate and grow when you allow him to develop those talents.
"When I get my life together, I will serve God."
Truth: You don't need to improve to any arbitrary plateau before God can use you; he wants to use you today – just as you are.
"I want to, but I am too busy right now."
Truth: You have just as much time as anyone else.  Your problem isn't the number of hours in a day; it is your priorities.  Once you decide to put God first in your life, everything else will settle in place.
Do you think your situation is different?
Compare your excuses to those these biblical characters* could have made – but didn't:
Too old? Abraham was old.
Insecure? Jacob was insecure.
Victim of abuse? Joseph was abused.
Speech impediment? Moses stuttered.
Poverty? Gideon was poor.
Too sinful? Rahab was a prostitute.
Dysfunctional family? David's family was dysfunctional.
Struggle with depression? Jeremiah did too.
Not enthused? Jonah ran from God.
All alone? Naomi was a widow.
You don't fit in? John the Baptist was extremely eccentric.
Impulsive and hot headed? So was Peter.
Are you a worrier? Martha was anxious.
Been through several marriages? Join the Samaritan woman.
Disliked by others? So was Zacchaeus.
Is your faith too weak? Thomas was a doubter.
Health issues? Paul was in poor health.
Not outgoing? Timothy was timid.
That should cover just about all of us.
My favorite excuse (admittedly lame) is being too busy.  What are yours?
*I adapted this list from Rick Warren's Daily Hope.