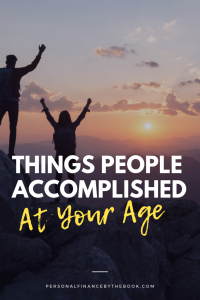 Which of the following emotions are you more likely to feel when reading what other people accomplished at your age: inspiration or depression? I long ago realized that I am not a prodigy, so I am not going to lament the fact that I didn't write my first classic novel at age 20 – something both Mary Shelly (Frankenstein) and Jane Austen (Pride and Prejudice) achieved – or measure the speed of light when I was 30 (like Physicist Armand H. L. Fizeau).
However, I am inspired by the accomplishments of those who didn't get their starts early in life. Jean Eugene Atget, now considered one of the world's greatest photographers, did not begin until he was 40. Renowned American folk artist Grandma Moses did not take up her craft until she was in her 70s and, Terri Tapper, at age 50, became the oldest female certified kiteboard instructor in the USA (and possibly the world).
From the web site Museum of Conceptual Art, these are accomplishments from people of the following ages:
Age 10
Swiss psychologist Jean Piaget published a scientific article, based on observations of an albino sparrow near his home.
Future United States Senator Claude Pepper carved the words "Claude Pepper, United States Senator" on a tree.
Age 20
Bill Gates dropped out of Harvard and co-founded Microsoft.
English novelist Mary Shelley wrote Frankenstein, or The Modern Prometheus, which was immediately successful.
Jane Austen wrote Pride and Prejudice, her second and most famous novel.
English author Elizabeth Barrett Browning published her first volume of poetry.
Age 30
Mark Twain published his first short story, "Jim Smiley and His Jumping Frog."
Physicist Armand H. L. Fizeau measured the speed of light.
Donald Trump persuaded bankers to lend him $80 million so he could buy the Commodore Hotel.
Bill Gates was the first person ever to become a billionaire by age 30.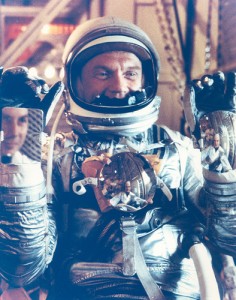 Age 40
John Glenn became the first American to orbit the Earth.
Harriet Beecher Stowe, a mother of six who occasionally wrote for magazines, published Uncle Tom's Cabin, an antislavery novel of such force that it is generally recognized as one of the causes of the Civil War.
Jean Eugene Atget, now considered one of the greatest photographers, took up photography.
Age 50
Terri Tapper became the oldest female certified kiteboard instructor in the USA (and possibly the world).
Samuel Adams directed the Boston Tea Party.
Larry Silverman of Ballston Lake, NY, achieved his 3rd-degree black belt in karate.
Age 60
Playwright and essayist George Bernard Shaw completed a play, "Heartbreak House," regarded by some as his masterpiece.
Italian sculptor, painter, playwright, draftsman and architect Gian Lorenzo Bernini began designing churches.
Age 70
Judy Brenner, who had recently run the Boston Marathon, chased a teenage shoplifter 100 feet and helped hold him until police arrived.
Benjamin Franklin helped draft the Declaration of Independence.
French actress Sarah Bernhardt had a leg amputated but refused to abandon the stage.
Age 80
Jessica Tandy became the oldest Oscar recipient for her work in Driving Miss Daisy.
George Burns became the second oldest Oscar recipient for his work in The Sunshine Boys.
American writer and physician Oliver Wendell Holmes published "Over the Teacups," which displayed his characteristic vitality and wit.
Christine Brown of Laguna Hills, California flew to China and climbed the Great Wall.
Age 90
Chagall became the first living artist to be exhibited at the Louvre museum.
Pablo Picasso was still producing drawings and engravings.
Chemist Paul Walden was still giving chemistry lectures.
Age 100+
Alice Porlock of Great Britain published her first book, Portrait of My Victorian Youth, when she was 102 years old.
Your age
Here is your assignment: Try plugging in your own age at Museum of Conceptual Art to see what other people were doing at that same age.  Then post a comment on the most remarkable one.
Probably the most notable (interesting?) accomplishment of anyone my age (63) was accomplished by Countess Rosa Branicka, a wealthy Polish noble, who performed breast cancer surgery on herself and lived to be 82.
Am I inspired? Well, uhm, maybe I should try kiteboarding.
photo credit: jepsculpture