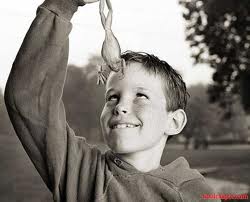 "Well, it is time to go eat a frog", my wife bemoaned recently as she was cleaning up the breakfast dishes.  She was, of course, referring to the old adage,  "If you eat a frog the first thing in the morning, the rest of your day will be better."
What was her frog? Going to the bank and to the police department to deal with having her identity stolen.
Let's rewind a couple of weeks.
After opening her December bank statement, Jan plopped it on my desk.  "Do you have any idea what this $123.28 charge to Ebay's Half.com is?"
"Well, no." I replied, examining the statement, "But the purchase was made on December 10, so I am guessing it was for a Christmas present."
"You know I keep meticulous records." Jan replied. "For one thing, I don't have any record of this as a Christmas gift. For another, I didn't make any Christmas purchases from my business account. It just doesn't make sense."
"I suppose you will have to do some research, starting with calling that 800 number on the statement."
Jan groaned as she walked away. "I have better things to do today than make a bunch of phone calls."
But she made that phone call. Here is the sequence of how this unraveled:
January 3: The phone call, of course, took Janice to an automated response. A computerized female voice told her that she needed to fax the following information to Half.com in order to initiate an investigation: driver's license, debit card info, bank statement and email address.  She complied.
January 5: Jan received an email from Half.com stating that the $123.28 charge was for "Anatomy and Physiology: Kenneth S. Saladin (Hardcover 2009)".
The email also stated, and I quote:
"If you do not recognize these charges and feel that they are unauthorized then we would suggest contacting your banking institution to dispute the charges with them to get your money back, they should have a procedure to follow in this situation.
Half.com also recommends contacting your local law enforcement if you would like them to do an investigation.
At this time we cannot provide you with anymore information in regards to these unauthorized charges. If law enforcement wishes to communicate with Half.com, please have them write to  stopfraud@ebay.com."
January 6: Eating the frog…Jan made an appointment at the bank and I tagged along, partly to give moral support and partly because I could see the seeds of a blog post. Things actually went well. Jan had to complete a very simple complaint form, but the bank immediately refunded the questioned charge as a "temporary provisional credit" pending further investigation of her complaint. Having a copy of the letter from Half.com was very helpful in establishing credibility. Of course we checked to see if other charges had been made (they hadn't). Jan also cancelled the debit card and applied for a new one.
January 6: We then drove to the police station to file a complaint. We gave the officer a copy of the bank statement and the letter from Half.com. Although he didn't give us much hope that he could find the criminal, he assured us that he would follow up and keep us posted. He also told us (as did the bank) that these things are very common.
What have we learned from our Identity Theft experience?
That Identity Theft can and does happen.
That dealing with a local small town bank is nice. We were glad that we could sit down and talk to a real person who was able to handle our concerns.
That we need to consider identity theft protection.
That some frogs are not as bad as expected. Again, dealing with a local bank really helped. We probably didn't spend more than an hour total with the bank and the police.
We need online banking in order to be able to monitor our accounts more closely. Yes, technology lag is a downside of small town banking, but ours recently offered online banking and we signed up.
Some crooks only steal a little. We are still puzzled that this thief, after one successful purchase on Jan's debit card, didn't try for more.
Seldom used accounts are vulnerable. Jan hardly ever uses this account, which made the purchase even more noticeable.
That the security freeze we had previously placed with all three credit reporting agencies, while giving us some identity theft protection, is not foolproof.
Readers: Have you ever had your identity stolen? How much hassle did you have getting your money back? What steps did you take to prevent future theft?  Any tips for us?