As Father's Day approaches, it's time to start brainstorming a gift. If your dad is like many others, he's near-impossible to buy gifts for.
You could do what you did last year…get him a pair of socks or a set of golf balls.
Instead, consider doing something a little different this time around. Make a concerted effort to find something that will suit his needs and activities.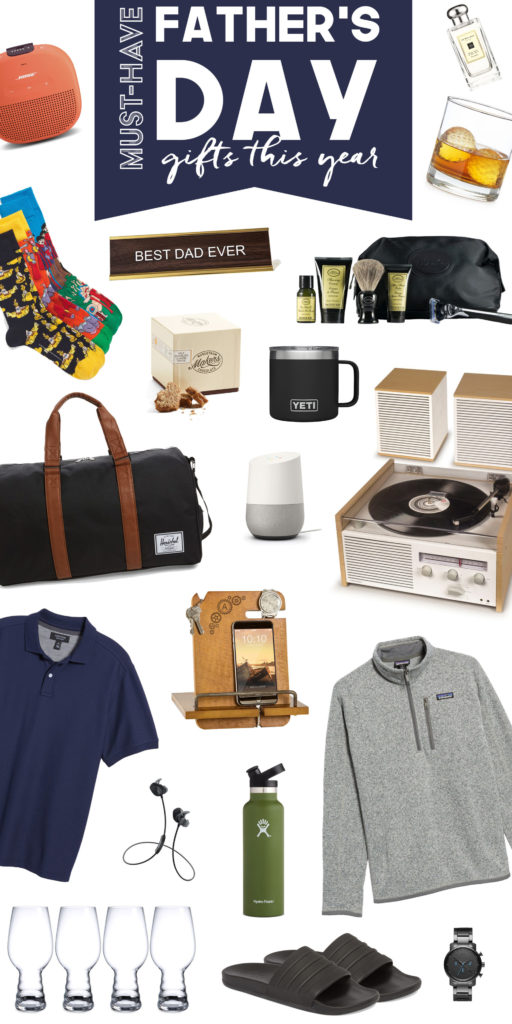 For Dads into Tech
With modern technology coming up with great products all the time, a brand new gadget for dad could be the perfect gift.
Mini Drones
Take flying hobby planes and helicopters to the next level with a drone.
You will want to do your research before deciding, but here are some of the best available on the market today:
SIMREX X300C – This mini drone has a camera with a video resolution of HD 720 and costs around $40. It has about eight to 10 minutes of continuous use and can travel a distance of 30 to 40 meters. You can flip it and play with its direction of flight right from your iPhone.
Potensic A20 – A classic drone that has 15 to 20 minutes of usage and three flight speeds. For around $25, you can hover the craft anywhere, even indoors. It doesn't have a camera, but it does have its own remote.
Waterproof Speakers
When your dad is the type who's water-bound, these top-of-the-line high-tech speakers could make the perfect Father's Day gift.
Both are completely waterproof, wireless, and durable to handle any wet situation.
iFox Creations iF012 – Promoted for use in the shower, these tough and waterproof speakers cost $50. They pair with any Bluetooth device that delivers pristine, clear sound even when fully submerged. They have a long battery life, with up to 10 hours of uninterrupted use.
AOMAIS Sport II+ – For $50, this impressive speaker set offers 20 hours of continued use that's waterproof and very durable. It will work 99 feet away from its Bluetooth source, making it convenient for use in pools or even in the rain.
For the Great Outdoorsman
For the nature-loving dad in your life, there are a variety of things you can give for Father's Day.
Consider getting a personal water filter or a pair of binoculars that could be perfect for his purposes.
Personal Water Filters
The following contains some of the best-rated and highest quality water filters for use in camping, hiking and the great outdoors.
LifeStraw – This is the easiest, smallest and lightest water filter available today. All you do is place the straw into a reservoir of unfiltered water and begin drinking. It removes 99.9% of protozoa along with bacteria. For around $20, it's a steal for its efficacy and efficiency.
Katadyn BeFree Water Filter – For $40, get this lightweight, collapsible, and effective water filter that uses almost any standard plastic water bottle. You just attach the nozzle and squeeze water into your mouth. You get rid of 99.9% of protozoa and bacteria while you squeeze.
Binoculars
Whether your father likes to watch birds in his backyard or observe deer in the woods, one of these pairs of binoculars could be a dream.
Simmons ProSport – With a price tag of around $20, these binoculars offer a wide range of magnifications and lens focusing options for a bevy of applications and uses.
OMZER Compact – These compact binoculars with 10x magnification includes a 42mm objective lens and an 18mm ocular lens that costs around $45. It's fog resistant, waterproof, and incredibly durable.
For Foodie Fathers
Almost all fathers love food. But if yours is a major food buff, there might be something below to get your brain cranking on a proper present.
Molcajete and Tejolote – Akin to the traditional mortar and pestle, this is an old-world earthware classic from Mexico. It offers a time-honored way to grind and powder a variety of foods like homemade guacamole and fresh-ground spices. The price can range as low as $35 up to $50.
Death Star Waffle Maker – Start breakfast with the 'force' for around $40. This is a perfect gift for any Star Wars fan, but it will definitely make for an interesting Father's Day breakfast.
For Dad's Wet Bar
If your father has a personal bar, a gift to enrich his drink-making capabilities might be right on point.
Any spirit connoisseur should get a kick out of either of these fabulous gift ideas:
Whiskey Decanter and Rocks Glasses Set – Whiskey is a spirit to sip and enjoy slowly. If your father loves to entertain guests often, you can get a set containing four to eight glasses. So, prices can range depending on if you choose tempered glass, stainless steel, or high-quality crystal.
Cocktail Mixer Set – In the event your father loves to play mixologist, there are a host of cocktail mixer sets. You can get one that has a shot glass, strainer, and shaker for $25 or one that also includes stirring sticks and a recipe book for as much as $50.
Finding a Gift for Dad
No matter what kind of man your father is or what types of things he likes, hopefully, this list will have inspired you to do something a little extra fun for him this year.