Online education platforms are a great way to level up your skills and open job opportunities. However, which platform you should choose depends on what skills you want to learn.
Some platforms specialize in teaching certain subjects and what kind of qualification you want or need. Therefore, some platforms teach you the skills and others do not.
Here are five educational platforms where you can learn a wide range of skills with a few different pricing options, so you can find what works for your budget. 
Udemy
Udemy is an excellent option if you want access to general information from many different subjects.
It has over 100,000 courses in subjects from languages to programming to business skills.
However, you will have to pay for each course independently, and the price range can vary.
Some classes are as low as $11, while others can be more than $200. Remember that Udemy certificates are not legally valid though they can help you stand out when applying for specific jobs. 
Coursera
Coursera is your chance to learn from professors and earn certifications and degrees online for a fraction of what it costs to go to a post-secondary institution.
https://www.verywellfamily.com/best-online-learning-platforms-5073725
It mimics a physical classroom environment with multimedia courses that utilize video, quizzes, homework assignments, and other elements you would find while taking an in-person class.
The price of courses can vary as you must pay for each one individually. Some classes start as cheap as $30, while others can cost much more. You can save some money by purchasing a bundle, such as a certification/degree program.
Or another option is getting a Coursera Plus account for $399, which gives you access to over 3,000 courses on the platform in a mixture of subjects.
You can also apply for the master's degrees programs offered on the platform to get higher education degree.
Skillshare
While Skillshare does tend to provide courses in more creative fields, there is still a large selection of coding and business classes. The courses involve mainly video lessons with assignments to reinforce students' skills.
Skillshare is also the most affordable option as it's a subscription model, meaning you pay one price, $32 per month or $168 per year (about $14 per month), and then have access to all the courses on the platform. Even better, Skillshare offers free lessons so you can get started with a free class.
However, Skillshare does not provide certificates, nor does it count towards gaining degrees or certifications. If you want to improve your skills and don't need to get credit for those skills, then Skillshare is a great and affordable option.
EdX
MIT and Harvard founded EdX and completing courses will earn you certifications and even Masters' degrees. It offers courses in computer programming, data analysis, business, and many other subjects.
There is also the opportunity to earn transferable undergrad credits. You can use them for in-person degrees should you choose. 
The best part about EdX is the courses are free. Taking the free versions of any course is a great way to learn new skills from real college instructors.
However, if you want to get verifications and certificates, it will cost you about $49 per course. Getting certifications is a great way to show future employers of educational institutions that you take your education and field seriously.
Udacity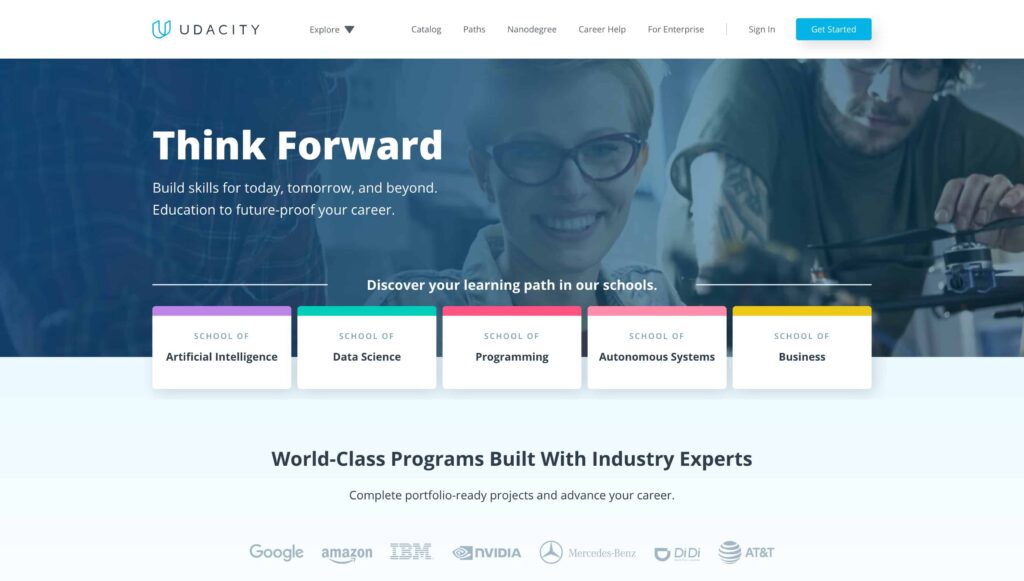 If you want to level up your tech skills and open more opportunities in your field, then Udacity has all the courses you'll need. It focuses mainly on programming, web development, and data science to create a kind of "coding Bootcamp." The levels range from a complete novice to more advanced learners wanting to expand their skills. 
Udacity has free and paid courses depending on how in-depth you want to learn a topic and whether you want to earn a certification.
Systems require one to five months of study to complete and cost about $399 per month or $597 for the entire system at once.
These courses will not only help improve your skills with lessons from real instructors, but Udacity also provides career coaches to address your individual needs.
The career coaches help you start or advance your career by distributing your resume to their network of corporation. They partner with Google and Nvidia. Udacity is an excellent resource if you want extra help with planning out your career track. 
Final Thoughts
There are so many ways to expand your knowledge and advance in your career without going back to formal schooling. Online education platforms offer a wide range of topics and allow you to learn at your own pace when you have time.
Whether you want to try out some free courses and pick up a couple of new skills or want to take a deep dive into a subject and earn a certification, there's an online platform out there for you.