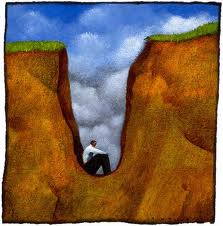 Moe had it made. He was adopted by a wealthy family and given all of the privileges that came with sonship.  A gifted student, he flourished as he studied at the finest universities. Moe could have worked in the family business and lived a life of leisure. He could have had limitless wealth, enormous prestige, international recognition and boundless power and position.
But  something was missing.  That life of comfort and luxury didn't match Moe's temperament;  such a life, for him, was one of boredom and predictability. He was stuck in a rut, but breaking out tested him to the core of his being. Why? Because it was all or none; his father made it clear that should Moe decide to leave the family business, he would be disinherited, penniless and on the street.
He therefore had to choose between his humdrum life of ease or a life of poverty and uncertainty. What do you think he did? What would you do?
Moe broke out of his rut.
He dedicated his life to being a spokesman for a persecuted minority group in his nation…a group which his adopted father hated so deeply that he not only disowned his son, but made him a lifetime enemy.
How did it go?
Moe was never again in a rut as he advocated for this group. Even though he led them to a new freedom, he faced dangers from without and confrontations from within. He was misunderstood and under appreciated for most of his life. Yet those very hardships molded him into a man of character and resolve…he stood up to his enemies and stayed true to his people. Moe, in my mind, was a hero.
The rest of the story
By now you may have recognized Moe to be Moses from the bible (See Hebrews 11:24-27 for a quick overview). Hopefully, his life will inspire you to never settle for the easy life when deeper issues are whispering in your ear.
What does breaking out of the rut really mean?
Financial aspect
Many define breaking out of life's rut as achieving a financial liberty which allows you to more clearly chart your own course instead of being stuck under the thumbnail of a J-O-B. I say, "Go for it!" and I applaud your every effort to not allow financial considerations to dictate your day to day activities. However, I believe there is more to it…
A higher purpose
Although money was not an issue for Moses, he was nevertheless trapped. He was going through the motions of living without ever actually discovering why he was given life. Moses made the tough, tough decision to no longer work for "the man" so he could work for THE MAN. From that point on, his life was never easy. But it was focused and meaningful.
How about you?
Is your life mundane because you pursue what others expect of you? Do you stay in that dead end job because it pays the bills or because you have been there too many years to try something different?
I challenge you to learn from Moses. God put you here on earth for a reason. Any life other than pursuing that reason is a life in a rut. Like Moses, breaking free could well bring about a life fraught with hardships and misunderstandings, but it will also be a life of purpose and fulfillment.
Like Moses, you will never look back.
Readers: What does "breaking out of the rut" mean to you?  Have you already done so?  If not, how do you plan to do so?