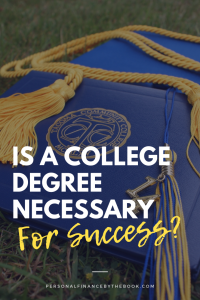 Quick: What do Bill Gates, Richard Branson and Michael Dell have in common? All billionaires? Right. What else? Would you believe that none of them graduated from college? In fact, they have a combined four years of college. And none of them gained their riches from family connections. They worked and made it happen on their own.
Branson (head of Virgin Records, media, travel, etc.), battled dyslexia as a child and never went to college. But he started his own magazine at age 16 and has been starting businesses ever since. Today he is worth almost $2.5 billion.
Dell (founder, chairman and CEO of Dell, Inc.) began a fascination with computers at age 15 when he took one apart and put it back together to see if it would work. He attended University of Texas briefly, then left college to start his own computer company. His current net worth is in the neighborhood of $17 billion.
Bill Gates (founder of Microsoft) attended Harvard, dropped out, started Microsoft. Need I say more?
Am I writing this post to disparage college? Certainly not. I am a college graduate and a big believer in higher education.
However, I would like to challenge the nearly universal belief that a college degree is a prerequisite for financial success. It isn't. "But," you may be thinking, "aren't the most intelligent people the ones most likely to succeed?" It depends on how you define "intelligence." For most academia, an intelligent person is an analytical person. After all, analytical people score well on tests and therefore do well in college. But what if our definition of intelligence is flawed? Dr. Robert J. Sternberg, one of America's leading authorities on intelligence and author of "Successful Intelligence", has determined that intelligence that bring success in life has three components: analytical intelligence, creative intelligence and practical intelligence or common sense. Simply put, being analytical will not bring success unless combined with creativity and common sense. Do you know people who are great in school but languish in life? Do you know people who are not really good at anything except going to school? Is it possible that these are some of the same people who become the professors who perpetuate the fallacy that intelligence is strictly a measure of analytical thinking? Could it be that they are neither creative or practical?
Besides being billionaires and not completing college, what else to Branson, Dell and Gates have in common? They are all creative and practical.
How about you? You may be much more intelligent than you give yourself credit for. If you struggled with school, it may simply mean that you aren't great at analytical reasoning. Are you creative? Do you have common sense? If so, you, by definition, are intelligent and have every reason to believe that you can succeed in whatever endeavor you attempt.