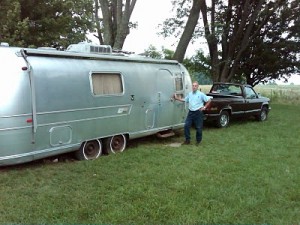 Many of you will remember reading about the Airstream camper my wife and I purchased last fall. Previous posts of this ongoing saga are Airstream and Irvin, a Nostalgic Adventure,  Airstream Update: Did We Create a Monster? , and Update on Airstream – Not Good News.
First a quick summary.
Janice and I made a purchase that we didn't really want, but still thought would be good for our family. Our kids (all grown) had been gently coaxing us to get a camper so they could rekindle their childhood memories of camping time with Janice's parents. Good sense eventually gave way to nostalgia when a vintage (fancy word for "old") Airstream became available for a very low price. Janice's dad Irvin, who passed away about 20 years ago, had always dreamed of owning an Airstream.
"We could buy it in honor of Irvin," we said. "He would be so proud of seeing his grandkids and great grandkids enjoy an Airstream!"
So we bought it, and spent money on it and spent more money on it. And could easily spend a bunch more money on it.
With winter over and camping season upon us, Janice and I have been second guessing our purchase. The camper still needs more attention before it can be deemed road worthy and because this is a family project, it is time for our group to tie into it. The problem is our kids are swamped with activities in their own lives and don't have a lot of time to work on the camper. Jan and I didn't want the kids to feel obligated or guilty, but we also wanted to flush out the commitment level to this family project. We agreed that if the commitment wasn't there, we would sell it and chalk one up to experience.
Therefore, we discussed it during a recent Sunday dinner.
"Kids," I began. "We need to discuss the Airstream. What are your thoughts on finishing our restoration enough to get it going? And do you think you will actually use it? We want you to be totally candid and not feel guilty if you aren't able to work on it."
Josh: "Dad, as you know, we are overscheduled this summer, but I still plan on working on the Airstream and using it. The kids (my grandkids) are really pumped and want to go camping. Realistically, it might not be much this year, but we are still interested."
Jonathan: "I am definitely going to use it and I will do what it takes to get it ready."
End of conversation. We will hang on to the Airstream for now. But we have learned a lot from this adventure. We did some things wrong and we did some things right. Here are a few:
What kinds of things did we do wrong?
Buy something because it comes available.
When we heard about the Airstream, we were not planning on buying a camper. If we had been shopping for a camper, I would have analyzed it to death, comparing every type and style and age of camper anywhere. As it was, this one camper became available and we were fixated on it. Our challenge should have been which camper at what price and condition, but it became a yes or no on the Airstream, without shopping anything else.
Poor use of emergency fund money.
We didn't use emergency fund money to buy the camper, but when repairs went over what we budgeted, we rationalized and spend emergency money for those repairs. Not a good personal finance practice.
Thinking a bargain is a bargain.
We didn't pay much for the Airstream, but we should have researched the repairs more thoroughly. Granted, we had no way of knowing the floor beams under the bathroom were rusted through, but we could have been more realistic in allowing for contingencies instead of feeling smug about the bargain.
Things we did right.
Communication.
Janice and I were totally on the same page when we made the purchase. We talked it through and through, agreeing on where the money would come from and how much we would spend on repairs. We also communicated clearly with our kids about their part in this purchase. Had we not clearly agreed on expectations before the purchase, well…let's just say that finger pointing could have occurred.
We paid cash.
Yes, we dipped into our emergency fund for unexpected repairs, but we did pay cash for the purchase. Had the Airstream created debt, we probably would have been grumbling with every payment. If we were still making payments, we wouldn't be so relaxed about hanging on to it for another season.
We invested in a family project.
I realize that this project might not turn out the way we want, but we are still dreaming about the possibilities of family adventures the Airstream will bring us. Will our kids every re-create those camping memories of when they were kids? Maybe not, but together we can create some new ones.
I think that is what Irvin would want.
Readers: What purchases have you made because "it was available"? What "bargains" didn't turn out to be bargains.