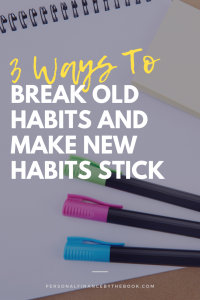 We've all had a bad habit of some sort – cracking knuckles, biting fingernails, spending money you don't have, speaking over other people, you name it. I hope I'm not getting too personal…. A habit can become almost involuntary and can be very frustrating if it's one you don't want. Although there is no magic formula for breaking a habit, there are ways to overcome them and replace these actions with better habits. Yes, it comes down to change and change is hard; but with a little work, you can reprogram your mind to do anything you set out to do.
Breaking Bad Habits
1. Address the Reason WHY You Need to Stop
Why is your habit so bad anyway? Until you actually come up with the reason and acknowledge the impact of your habit, you'll never get over it.
Do you have a habit of checking your email too much? Your reason to stop may be that it's taking too much time away from your family. Spending too much money? Your reason to stop is because your finances are suffering and you just can't 'get ahead.'  Be honest with yourself and think about what is being affected by the habit.
2. Identify Substitutes
Once you know why you need to stop, you can work on ways to replace the habit with better things. Try to identify activities that will make you more productive or help you practice self-control. An example would be to set aside 3 ten-minute blocks at night to check your email. This lets you stay in control of your email – not the other way around. If you want to break the vending machine habit, try bringing pre-made snacks to work. You'll soon overcome the temptation to spend a few dollars just by planning ahead.
3. Make the Decision
You can talk about making a change all you want, but nothing happens until you start. The choice to start doing something differently needs to be a conscious decision that you believe in – otherwise, it won't stick. Choosing the substitute over your bad habit will put you on your way to better habits – but you're not done yet…
Building Good Habits
1. Get Focused
If you want to build good habits, you need to have a strong will and narrowed focus. Trying to start too many new habits will only result in a bunch of inconsistent tasks. Start with one new habit at a time and make it a priority to master it before moving on to your next goal.
2. Stay Organized
Your efforts will be much more fruitful if you write down your goals and objectives before starting. Keep it simple and make targets that are achievable. Try making milestones that you can track over a period of time. An example would be: "I will drink 4 glasses of water a day for a week and move to 5 glasses next week." Create a chart and keep track of your progress.
3. Be Consistent
Habits aren't broken overnight; nor are they started in a day. Through consistent action, you can add a great habit to your life that can literally make your life better!
One of the ways you can stay committed is through accountability. (yes, the "A" word) Announce your new goal to a few friends or write a $100 check to someone you trust with instruction to cash it if you don't keep your word.
You've heard it said that a new habit takes 21 days of consistent action in order to stick. Whether that's true or not, I challenge you to start and commit to your goal no matter how long it takes. The bottom line is that it requires a concentrated effort and determination to change, but I'm confident you can do it!
"I can do all things through Christ who gives me strength." Philippians 4:13
What do you think? Do you have any tips or habits to break or start?
Tim is a personal finance writer at Faith and Finance a Christian financial help blog that provides financial insights for individuals, businesses, and churches. Outside of finance, Tim enjoys spending time with his wife, playing the saxophone, reading economics books, and a good game of RISK or Catan. Find him on Twitter and Facebook and subscribe to the Faith and Finance RSS feed.