A budget is the secret weapon that keeps things running smoothly at home. Of course, we all know the importance of budgeting for food, rent, travel, and so on – but what happens when the unexpected comes along?
Here is our list of 14 essential items that people forget to budget for to help keep their finances under control.
1. Pets
Our pets are good for us, but they can be bad for our budget! It can be hard to stay on budget when you must pay for things like vet visits, pet sitting, and replacing a chewed-up basket.
2. Tech
The idea of breaking or losing a phone fills us with dread, and that's before we've even considered the impact that replacing it has on our budget. Or it could be a computer, laptop, or TV, so plan and set some money aside in case of a tech crisis.
On the subject of technology, it's worth remembering that software packages can be pricey and take a big chunk out of your budget.
3. Impulse spending
Life is unpredictable, and budgeting for impulse spending will help you navigate stormy waters.
Impulse spending could be picking up a favorite treat for dinner after an unexpectedly bad day or buying a train ticket to visit a friend going through a breakup. It is better to have some money set aside than to dive reluctantly into your savings.
4. Gifts
A Christmas budget is usually a core part of any annual spending budget, but what about all the gift-giving occasions?
Weddings, birthdays, and baby showers may all call for gifts, so factor this into your annual spending plan to enjoy buying the gift as much as giving it.
5. Events
About Christmas – an office Christmas party can sure eat a hole in your budget! Tickets, drinks, outfits, and a ride all add up to a hefty sum you had been better off planning for.
And it is not just Christmas; this category includes weddings, baby showers, and birthdays.
6. Fines
Look, it happens. If you are unlucky enough to get a parking or speeding ticket, the least you can do is lessen the blow with a sum of money set aside just in case.
7. Annual payments
Monthly budgets are one of the more widespread budgeting methods, but they can miss out on payments and fees that only catch us once a year when our backs are turned.
Annual membership fees, car registrations, and personal taxes can set you back if you do not plan.
8. Repairs
This is different from an emergency fund and is more geared towards covering monthly small repair jobs like flat tires or damaged roofs.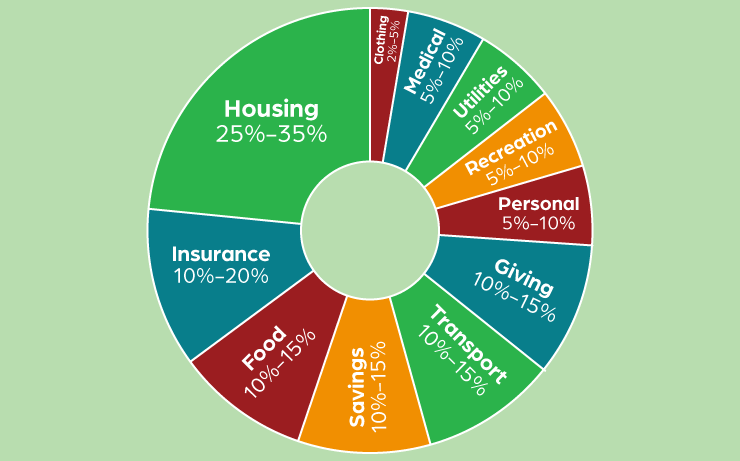 9. School expenses
There are school fees, and then there is everything else. Yearbooks, field trips, music lessons, classroom supplies, and prom all cost money and will be more fun for you without financial stress.
10. Office supplies
In today's day and age, we are all working from home more. This means your home office setup will likely cost you a lot more than it did in the past.
Printing paper, ink, and other stationery get "borrowed" from the office for a reason – they're expensive! Factor these into a budget, and you will not have to worry about your home office basics again.
11. Medicine cabinet
We all know that medical expenses need to be accommodated in a budget, but what about the day-to-day? Keeping your household stocked up on cold medicine, vitamins, and band-aids can become an expensive affair.
12. Other medical
If you are a family of glasses-wearers, do not forget to budget for your trips to the eye doctor. The same applies to dentists, orthodontists, and chiropractors.
You may have already included these in your general medical budget, but a little more foresight does not harm anyone.
https://themakingofamillionaire.com/ten-things-you-may-be-forgetting-to-include-in-your-budget-fea52669928c
13. Fees
Many fees are included in our financial statements to go unnoticed. Please pay attention to what fees you are paying and when and pay particular attention to credit card fees as they tend to charge annually.
14. Personal care
Last, but certainly not least, we have personal care. With all this budgeting, it is essential to make time for yourself to get pampered and groomed occasionally. A trip to the salon should be relaxing, so keep it worry-free with a designated part of your budget.