Were you still paying for Christmas 2009 in July of 2010?
Did you have heart palpitations when you received your January credit card statements this year?
Has the joy of giving become the duty of giving?
Does Christmas giving spark spousal wars in your family?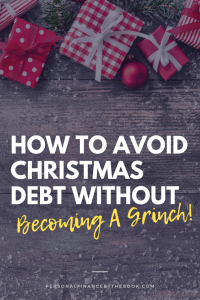 If you answered "yes" to any of these questions, I challenge you to answer "yes" to this one:  Will you try these tips in order to make Christmas 2010 different? Good for you!
The good news is that you still have time. If you decide today that this year will be different, it will be. These frugal Christmas ideas will help.
1. Make a commitment to avoid debt.
Draw the "no debt" line in the sand and agree with your spouse. Even better, put the commitment in writing and include both signatures.  You will become teammates with a cause.
2. Make a budget.
This is an absolute necessity. It is one thing to make that anti-debt commitment; it is another to know how to create budget and actually do it.
3. Cut back on other holiday expenses.
Do you entertain during the holidays? Do you travel? How about a holiday vacation? If these expenses cause you to create debt with your giving, start paring back. Remember that "no debt" vow.
4. Start saving today.
The sacrifices you make in the next two months could allow you to avoid Christmas debt. No eating out, for example, could be a way to save hundreds of dollars.
5. Spend cash for gifts.
Put your budgeted cash into a "Christmas giving" envelope, along with your budget. Don't buy ANYTHING unless you have the cash to pay for it. If you shop online, use a debit card (not a credit card) and reimburse your checking account with cash from your envelope.
6. Agree with family to give to a charity in lieu of a gift exchange.
My siblings and I (there are seven of us), take turns picking the charity. The charity of choice is announced in late November and we each send a $25 donation to the one who made the choice. We all love this idea: it is not only affordable, but we are giving to a real need instead of buying pointless gifts for each other.
7. Draw names for gifts.
You may get some resistance from those who think they have to buy a gift for every single family member, but ask them to try it for one year. They may be pleasantly surprised at how much stress and money can be saved by simplifying the gift list.
8. Agree to buy bargain gifts.
This might not work for everyone, but because many of our family loves to shop at yard sales, we have a fun challenge to see what types of bargain gifts we can buy for each other. I personally love the yard sale bargains others get for me. If some don't do yard sales, they could be challenged to buy from a Good Will Mission or Salvation Army Thrift Store. They not only find bargains, but they support a good cause.
9. Make home made gifts.
You will not only save money, but you will provide a more meaningful gift. My brother in law still uses the carry case I made years ago for his Coleman lantern. We love the framed artwork our son gives us.
10. Give coupons.
A certificate good for a car wash or baby sitting or lawn mowing or a date with your daughter or a fishing trip with your son are all great gifts of time. Note: make sure you follow up on actually making sure the recipient "cashes" the certificate. Some feel awkward asking.
11. Volunteer.
I know this isn't about saving money, but it is about not being a Grinch. It is impossible to serve others without gaining more than you give. My Sunday School class buys gifts for needy families and then delivers those gifts in person. We seldom fail to see appreciative parents and children.
12. Remember the reason for the season.
The holiday is called Christmas for a reason: it is the celebration of the birth of Christ. Make specific plans to participate in this celebration. Attend a Christmas Eve service or a Christmas cantata. When you focus on the child in the manger who became the savior of the world, you cannot be a Grinch. Actually, you could. His heart grew three times its size when he experienced the marvel of Christmas. Yours could too.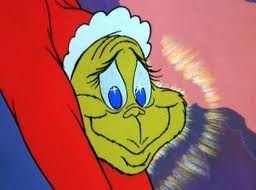 Hmmmm. Maybe being a Grinch isn't so bad after all.
How does your family avoid Christmas debt without becoming a Grinch?