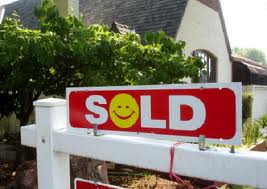 Woohoo!  After purchasing our flip house at an estate auction in April of 2010, reworking it from top to bottom (we gutted the house and installed all new walls, ceilings, floors, plumbing, lighting and kitchen cabinets), we closed on the sale last week.  Feel free to check out the entire series I have written on this flip house by clicking any (or all) of these links:
My House Flipping Experience: the Bid
We Closed on Our Flip House Yesterday
And, for lots of before and after pictures, check out Our Flip House is on the Market
In this final post of THIS flip house series, I will give you the lowdown on how it went.
 How We Calculated Our Maximum Bid
Because house flippers make their money at the purchase (not at the sale), we wanted a 30% margin between our total expenditures and our sale price.  After inspecting the house and deciding which improvements we would make, we believed we could sell it for $85,000.  Because 70% of $85,000  is about $60,000, and because we calculated our improvement expenditures to be $10,000, we knew that we could not spend more than $50,000 for the property.  You may want to read My House Flipping Experience: the Bid for the actual bid experience, but the bottom line is that we were the high bidder at $48,300.  A bit scary, but kind of exhilarating at the same time.
How Did We Do?
First, we spent more than we budgeted.  Quite a bit more.  But we justified those additional expenses by telling ourselves that the extra pizzazz in the kitchen (see the picture), the all new stainless steel appliances, and the new French doors leading out to the new deck would make this home so classy that we could ask more for it.  How much more did we spend?  Well…our total expenditures came to $76,000, or $16,000 over budget, but, as I said, with tons of class.
In order to keep our profit margin in the range we were looking for, and remain competitive in the market, we asked $99,000 for the house.  It was indeed the nicest one bath, three bedroom house in the area, but we were competing with some rather mundane one bath, three bedroom houses in the $60,000 to $80,000 range.  All of our lookers bragged about how wonderful the house looked, but they were not ready to fork over an "extra" $20,000  for it.  In the end, we found a young couple who LOVED – LOVED – LOVED it and offered us $90,000.  With Fall upon us and Winter on its way, we agreed.  Bottom line: we made about $14,000 profit NOT counting our sweat equity.  Was it worth it?  We agreed that for a first time effort, in a VERY slow market, in an extremely non-transient community, we did all right.  Stated differently, this is a lousy time to be flipping houses, but if we could make a bit of profit in this market, maybe we could do better when things loosen up.
What did we learn?
We definitely learned a lot, but here are a few bullet points.
Don't overlook ongoing expenses.  I realize that this is extremely obvious, but we somehow didn't figure utilities, property taxes, homeowner's insurance and maintenance (we had to pay for the one acre lot to be mowed).  Little things add up, and these weren't all that little: about $300 per month (or nearly $5,000  for the time we owned the house).
It is a lot of work.  We didn't keep track of our time, but my best guess is that we weren't making more than $15/hour for the work we put into this house.  We justified it by saying "This is a learning experience";  "Doing father/son projects is a good thing." and "We are creating a really nice home for someone."   Still, we are planning for our next flip to be much less demanding.
We don't need  a broker.  I have nothing against hiring a broker, but, as I have shared in other posts in this series, Jonathan (my son) has sold several houses on his own.  He has a great working relationship with an attorney and a title search company.  He also stays current with the local market and is great in working with prospective buyers.  We did  list the house in the local newspaper and on the For Sale by Owner web site.  As it turned out, our buyer (the wife) saw the sign in front of the house, then, by checking on line, found our ad on the "For Sale by Owner" site.  All of the pictures (we posted about 40) grabbed her attention and led to a showing which led to the sale.
Lots of competition.  With such a slow market and with financing as tight as it is, our area is definitely a buyer's market.  Although we should have known better, we fixated on one house without seeing the big picture.
The Wow Factor.  Because of this competition, we knew that our house had to stand out in the crowd.  We therefore took extra pain with detail to basically create a "new house at a used house price".  Without that approach, I am convinced that we would still be sitting on this house.  As it is, our owners are ecstatic about their "dream home".
Will we flip another house?
Yes, but hopefully we can apply the above lessons.  In our market, we will be looking for a home that, once complete, will sell in the $60,000 to $70,000 range.  Those homes move much quicker, require less risk, less work, less financing and, hopefully, a quicker sale.
When (and if) we start another, I will be sure to let you know.
Readers:  Have you ever flipped a house?  How did it go?  Even if you haven't, feel free to share your tips and thoughts. Thanks!