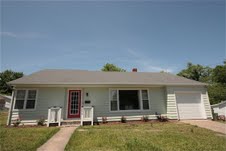 House Flip 2 now has a very happy owner.
WooHoo!  We (my son and I) closed on our second house flip last month.  When I wrote House Flip #2 is on the Market, I promised, once the house was sold, to give you a full report on how we did.  I am happy to say that we made a profit.
How we figured our purchase price
As with our first house flip, we agreed that our total investment should not be more than 70% of our asking price.  Also, like our first flip house, we agreed to go for the "Wow" factor, which included painting the exterior of the house, painting all interior walls and ceilings, installing all new ceiling lights and ceiling fans, new kitchen and bathroom faucets, new ceramic tile bathroom floor and new mosaic glass kitchen backsplash.  We also installed a new garage door with remote opener.  This is a 1250 SF, two bedroom, one bath house with a full basement and attached garage, in an average neighborhood.  Because of the extremely slow housing market in our tiny town, finding recent comparable sales was difficult, so we checked all two bedroom, one bath houses currently on the market and decided that we could ask $74,000 for our completed house.  We also estimated that we would spend $8,000 getting the house ready to sell.  Therefore, the math works like this:  70% of $74,000 = $51,800.  Subtracting $8,000 fixing up expenses brings us to a purchase price of $43,800.  Of course the seller would have to agree to $43,800, which she didn't.  But we were able to make the purchase for $45,000.  Not bad.
How did we do?
Once again, we underestimated our expenses.  Instead of spending $8,000, we spent $10,000.  And although we asked $74,000 for the house, we eventually agreed to a sale price of $67,000, bringing our profit to about $12,000 (not including our labor for doing all of the things listed above).
Our thoughts
We continue to learn.  The expenses which are easiest to underestimate are monthly utility bills, insurance and property taxes.  In this case, we falsely assumed that the property taxes would not change from what the previous owner paid, but they did.  A lot … from $450 to $1650 a year.   Why?  She had had a long time homestead exemption, which was dropped when she no longer owned the house.  We also, once again, overestimated what we thought we could sell the house for.  But still, in a very slow housing market, we feel good to have taken a nice house, turn it into a very nice house, found an extremely happy owner, and made a bit of profit.  Like I said, we continue to learn.
House Flip 3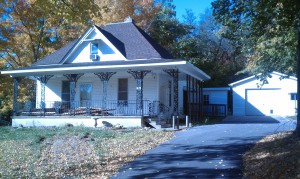 House Flip 3
More coming on House Flip 3, but the teaser is this: we made an offer which we never dreamed would be accepted…but it was.  So here we are with yet another house flip.  As with the others, I will keep you posted on how it goes.