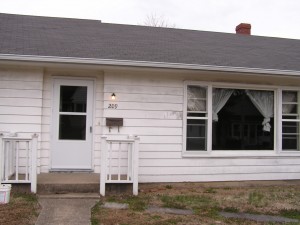 Exterior before
As promised, I am keeping you abreast of each house my son and I flip.  After selling our first house flip last fall, we started looking for "House Flip #2", which we purchased in March of this year.
We learned a lot with our first flip adventure, and we have tried to apply these lessons on our  second purchase.    What did we do differently?
Focus on elbow grease instead of total renovation.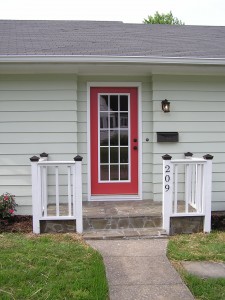 After: New paint on house, new front door, new stone on landing.
After gutting our first house and installing new wiring, plumbing, walls, ceilings, floors, kitchen cabinets, tub, toilet (well, you get the idea) we decided to look for a house which needs more elbow grease but less structural work.  We found what we were looking for, and we made the following improvements getting it ready to sell:
Paint the exterior of the house.
Upgrade the electrical service.
Refinish the hardwood floors.
New ceramic tile floors in the bath room.
New vinyl floor in the kitchen and utility room.
Install mosaic glass tile back-splash in kitchen.
Do some drainage work to eliminate a water problem in the basement.

Completed bathroom: new pedestal sink, new lighting, new ceramic tile floor

Upgrade ceiling lights throughout the house.
Replace bathroom vanity with a pedestal sink.
Replace garage door.
Paint garage floor with epoxy paint.
New front door.
New landscaping in front.
New stone on front patio.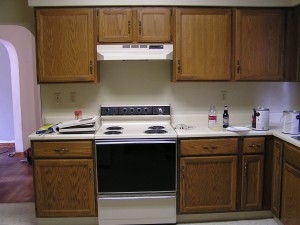 Kitchen before
Elbow grease: yes.  Structural changes: no.
Aim for a lower price range.
Our logic is that the pricier the house, the fewer potential buyers we will have.  Our asking price for our first flip house was $100,000; we are asking $74,000 for this one.  This being said, we are not certain that our logic is solid.  It may be that those who qualify for financing would just as easily be able to swing a loan for a $100,000 house as they could for a $74,000 house.  Also,  targeting a lower range market also creates more competition — there are more of these lower priced houses on the market than the pricier ones.  I suppose time will tell if our theory holds true.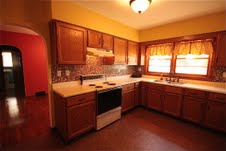 Kitchen after: new floor, mosaic tile back splash, lighing
What have we learned (so far) from House Flip 2?
Basically, we enjoyed the rehab much, much more.  It wasn't so overwhelming and we were able to wrap it up in a couple of months.  So far, we are hoping to aim for more of these aesthetic improvements in the future.  We also learned that the site For Sale By Owner (click to see our ad) has raised their prices astronomically.  Our cost for Flip #1 was a one time fee of $69.90, with unlimited photos.  We thought this price was very reasonable, especially when our eventual buyer told us she saw our on line ad.  However, our current ad is a one time only fee of $214 ($184 for the ad and an additional $30 for unlimited photos).  Hopefully, this price hike will be justified!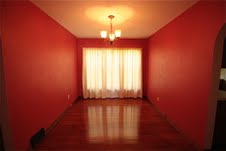 Dining room after: Newly painted walls, new chandelier, refinished hardwood floors.
We also learned that it doesn't hurt to ask for a contractor's discount.  We asked, and our local lumber yard agreed to a 10% discount on everything we buy for our business (now named Plemon Homes).
You have probably gathered that we are venturing into this house flip business VERY cautiously.  It is definitely a part time job for both me and my son, and we are agreed that we will not overextend ourselves…meaning we are taking on only one house at a time.
Hopefully we can get this one sold quickly, and (as I did with our first flip), I will let you know how it turns out.