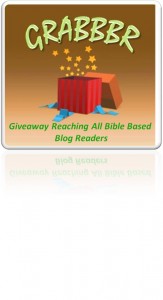 Personal Finance by the Book, along with five other Bible based Personal Finance Sites, have teamed up to offer a Mega-Giveaway.   This event is named GRABBBR (Giveaway Reaching All Bible Based Blog Readers) and includes Personal Finance Journey, Debt Free Adventure , Gather Little by Little, Provident Planning, One Money Design and, of course, yours truly.
Lakita, at Personal Finance Journey has done a fabulous job of organizing this event.  Make sure you check Welcome to GRABBBR to learn contest details, prizes and dates.  My big day for hosting GRABBBR is July 7, so make sure to stop by for a chance to win.
On to the Roundup!
Recommended Reading
The "Guest Post" : A Deceptive Advertising Trick at Invest it Wisely
Visualizing Your Financial Future (and Why It's Important) at Len Penzo dot com
Best Investments for Retirement Income at Wealth Pilgrim
Ways to Reduce Health Insurance Costs at Good Financial Cents
Being Frugal 100% of the Time Isn't For Me at Rainy Day Saver
Payday Loans – Look Before You Leap at Saving Money Today
5 Tips for Soon to be Retirees at Consumer Boomer
Is the Borrower Really a Slave to the Lender? at Money Help for Christians
Joe around the web:
Austin at Foreigner Finance recently interviewed me for a podcast.  A new experience for me.
Check out my post 7 Steps to Help Get Out of Credit Card Debt at Christian PF
I have been included in the following roundups:
Carnivals I have participated in this week
Best of Money Carnival hosted by Free Money Finance
The Yakezie Challenge Carnival at Young and Thrifty
Carnival of Money Stories at Business and Sports
Festival of Frugality at Where's My Rolling Pin?
Christian Finance Carnival hosted by Provident Planning
Christian Carnival hosted by Who Am I?
Carnival of Financial Planning at The Skilled Investor