Personal Finance by the Book  is a partner in GRABBBR, that is Giveaway Reaching All Bible Based Blog Readers.  This is my featured GRABBBR blog post.  By leaving a comment on this post, you will gain 5 ENTRY POINTS and may win cash or prizes.
Discussion is encouraged!  However, only 1 comment per person will be counted towards GRABBBR, so please, no spam.  For more information about GRABBBR, including how to gain additional entry points, visit the official GRABBBR page.

OK. I lured you with the Giveaway, but what is this belated birthday stuff?  Confession:  Personal Finance by the Book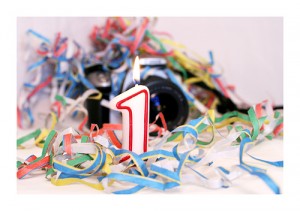 was one year old on July 1!  Knowing it was sometime in July, I had been planning to mention it this month.  However, when I checked it a couple of days ago, I learned that it had come and gone.  Oh well, not to worry.  I had already scheduled my featured GRABBBR post on July 7, so this is an opportune time for me to celebrate my belated birthday by being part of a giveaway.
So What Are My Reflections on One Year of Blogging?
Getting started
I would never have taken the initiative to start my own blog.  Never.  But my friend Jeff Rose at Good Financial Cents took me under his wing and patiently mentored me and patiently encouraged me and patiently walked me through the maze of getting a blog started.  Did I mention that Jeff has lots of patience?  Thank you Jeff.
It is a lot of work.
Some people can probably just write something and post it.  Not me.  My first draft is always atrocious.  I need to let it season overnight, look at it with fresh eyes and dig in again.  By the time something is ready to post, I have worked it over several times.  This being said, I really do enjoy the writing process.  Good thing…I wouldn't keep it up if I didn't.
Running a blog is not easy.
I am far from a techie anyway, so the mechanics of operating a blog site are a total stretch for me.  I am a work in progress and often feel intimidated and overwhelmed with the technical aspect of blogging.
The blogging community is amazingly supportive.
First, understand that I am not an extrovert.  I don't consider myself an introvert either, but, when surrounded by strangers, I am not the type of person who will introduce myself.  Therefore, getting to know fellow bloggers has been a challenge for me.  This being said, I have met numerous amazing people via blogging.  It seems that once the ice gets broken, I am able to loosen up and simply be myself.  After all, fellow bloggers have much in common.  I still am backward when it comes to asking for help, but I have been amazed at the willingness of the community to reach out and help each other.  The blogoshere is a great place.
Blogging is very satisfying.
I have heard it said that nothing worthwhile comes easy.  I believe it.  I already said that blogging is hard work, but that hard work is what makes it worthwhile and satisfying.   My goal has always been to help others navigate their their financial and spiritual journeys, so the feed back lets me know that others appreciate my efforts.  Just yesterday, I received this comment, "Thank God we have the real and indisputable EXPERT and his name is Jesus Christ. His book is the Bible. Thanks Joe for working to share these basic principles with your readers."   A comment like that will keep me energized for weeks!
My high points
The offer to be a staff writer for Christian PF has been the high point of this year.    The request was a real shot in the arm at a time (the six month mark) when my blog seemed to be stagnating.   I still have the email printout request on my desk, as a reminder that good things often come just at the right time.
Another high point was coming in runner up in Free Money Finance's March Money Madness contest with Debt Free in One Year: A True Story.
Showing up on Page One of Wise Bread's Top 100 Most Popular Personal Finance Blogs was exciting.  Thank you Yakezie community!
Other high points come sporadically when one of my posts is chosen for Best of Money Carnival or Best of the Best in Money and Finance Carnival.
What is next?
I wish I could say that I have a clearly strategized plan for Personal Finance by the Book, but I don't.  I like to plan in time segments; checking and evaluating at stops along the way.  Right now my number one goal is to get more viewers.  A bit of monetizing would be nice too.  Timewise, I will check with myself again in six more months.
Thanks
I want to thank every one of you for taking the time to read Personal Finance by the Book.  To know that what I write is worthy of your time is a huge honor.  Thank you.
Now: make some comments, sign up for my RSS feed and Newsletter feed and follow me on Twitter!  You might just win one of the GRABBBR prizes!

photo credit: Indy Charlie