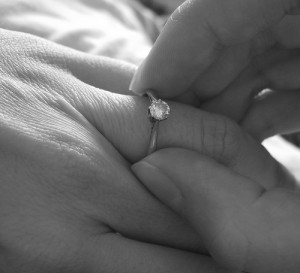 Today I am spending time with Mom and Step-father Bob as family throughout the nation gathers to celebrate the fact that each of them turned 90 earlier this year.  In honor of this celebration, I am sharing a story I wrote after their marriage 12 years ago.  I hope you enjoy it.

AN AUTUMN LOVE AFFAIR
After seventy years my mom got her man. At the age of 78 Cleva Puntney married Bob Melcher, a life long friend whom she fondly remembers from 1st Grade. But if Nancy "Jumpstart" Hutchison, a match-making friend, hadn't intervened, Mom might still be waiting.
Because Bob, a widower, lived in Phoenix, Arizona and Mom, a widow, lived 1600 miles away in Mt Vernon, Illinois, any prospects of romance seemed remote. However, a somewhat providential link existed. My sisters Anita and Robyn "just happened" to live in Phoenix, giving Mom the opportunity to periodically fly out west, not only to visit her daughters but to also see her old friend Bob. In fact, despite the razzing my sister Mary Lynne and I gave her about "shacking up", Mom would stay with Bob during these visits. After each visit, we would query Mom, fishing for some sign of romantic progress, but she stoically insisted, "We are simply old friends. That's all."
After all, Bob had proclaimed years ago that if he were to outlive his wife Doris, he would never re-marry. Mom remembered that vow and therefore didn't allow herself to think they could ever be anything other than friends. Perhaps Bob felt an obligation to keep his word. Maybe he was simply shy. He might have feared rejection. Whatever the reason, he didn't make the first move and Mom would not consider it. So these two friends, in their 70's, were stale-mated and in love.
Jumpstart Hutchison does her thing
It was time for Jumpstart Hutchison to perform her magic. Bob had traveled to Mt Vernon for his 60th High School Class Reunion and quite properly (as an old friend) stayed in Mom's guest room. At the Saturday night dance Jumpstart went into action. Her method was quite simple, first whispering "She's ready" in Bob's ear, then secretly confiding to Mom that Bob was ready. Of course, she had not previously discussed this readiness with either of them. Mom knew exactly what "ready" meant, but Bob, after mulling over this new information, approached Jumpstart later that evening, "Nancy, exactly what does 'ready' mean?"
"It means, dear Bob, that Cleva would marry you in a minute."
"Oh. I see." was all Bob could utter.
The Proposal
Still, nothing happened that night. Sunday passed with no progress. On Monday evening, the reunion over and time nearing for Bob to fly back to Arizona, they sat in Mom's living room. Bob sat upright in an easy chair as Mom relaxed on the couch opposite him. He leaned forward, cleared his throat, took a deep breath, and stammered slightly as he risked it, "Cleva, do you think we could get married and live six months here and six months in Arizona?"
Mom responded at once, "I thought you would never ask!" She hesitated slightly before adding, "Don't you think you ought to get down on your knees and ask me properly?"
"Well", Bob replied, "I would love to, but with all the odd jobs you've had me doing around here, I'm afraid that if I got down on my knees I might not be able to get back up."
"In that case, I accept!"
The date was September 14, 1998. They bought the rings the next day and were married on October 10.
The Wedding
As Mom's seven children, Bob's three children, and dozens of grand and great-grand children looked on, Bob and Cleva were married. I believe with all my heart that they were meant for each other. This is not to imply that their previous marriages were not meant to be, but this particular marriage between these two particular people at this particular point in time was magic. These two friends, who had known and respected each other for a lifetime, were given the gift of allowing that friendship to evolve into love. I was misty eyed throughout the ceremony as I realized that fairy tales do indeed come true.
Tall, lanky Bob held the hands of his petite bride as they shared the vows they had written. Mom's voice quivered only slightly as she spoke her heart, "Bob, I have always loved you as a friend and a true gentleman, and now I would like to thank you for the honor of loving you as your wife and mate." The room was hushed as Mom's long time friend, Clarice Hollis, stood to sing the songs Mom had selected. "Love is a Many Splendored Thing" set the scene as we knew we were witnessing the tenacity and patience of a splendid love. "Perfect choice." I was thinking. But the next song reached into my chest and clutched my heart. Although I had never considered "The September Song" as a wedding selection, the very first notes overwhelmed me with the awareness that this song was surely written for this day. My chest swelled and I bit my lower lip to hold back my sobs. Up and down the aisles, sisters, brothers, and in-laws were holding hands, hugging and wiping their eyes. In my mind, Mom and Bob were repeating these words to each other, the perfect wedding vows:
"Oh it's a long, long time from May to December.
But the days grow short when you reach September.
When the autumn weather turns the leaves to flame
One hasn't got time for the waiting game.
Oh, the days dwindle down to a precious few
September… November,
And these few precious days I'll spend with you.
These precious days I'll spend with you."
At 78 Mom and Bob married. Realizing that "these precious days" were limited, they nevertheless opened their hearts to each other, daring to love deeply, fully aware that heartache and loss is certain.
September love
This is the definition of a victorious life! Love has triumphed! Risking to love in the September of life marks success for two people who did it right. On behalf of their children and their children's children, I say, "Thank you Bob. Thank you Cleva. You inspire us to seize life, to love unreservedly and to count every day as precious. Your example gives us hope that our Septembers can be full and rich. We wish you many, many precious days together."
photo credit: Katherine_Davis
On with the Roundup!
Recommended Reading:
Early Retirement Extreme 21 Day Makeover at Money Funk
Mega-Money Tip List 600 Money Saving Tips at Deliver Away Debt
When You Save Are You Really Saving? at Free From Broke
My Store Brand vs Name Brand Blind Taste Test Experiment Number 3 at Len Penzo dot com
Do I Need a New Car? at the Wealth Artisan
How to Systematically Negotiate a Low Car Price at the Car Negotiation Coach
Ask the Readers: Student Loans or Savings? at Narrow Bridge Adventures
Eco Fraud Friday: Is it a Vegan Conspiracy? at Downturn Living
The Secret to Cutting Your Debt IMMEDIATELY at Barbara Friedberg Personal Finance
Save Money by Not Eating Out for an Entire Month at Good Financial Cents
When Operating Your Side Business Remember to Value "You" at My Journey to Millions
Joe elsewhere on the web:
The Health Risks of Debt Stress at Eliminate the Muda
I have been in the following roundups:
Medicine and Money – My Two Favorite Things at The Millionaire Nurse Blog
June Blog Posts on Investing and Saving Money at Buy Like Buffet
Carnivals I have participated in this week:
Carnival of Money Stories hosted by My Journey to Millions
Yakezie Carnival hosted by Beating Broke
Carnival of Financial Planning hosted by the Skilled Investor
Baby Boomers Blog Carnival hosted by Baby Boomers US